Framlingham College is considered a centre of excellence for sport nationally. We strive to be the destination of choice for young people who are looking to excel in their chosen sport, as well as developing a sporting appetite in all pupils, whatever their level. In addition to our Focus team sports of rugby, hockey, netball and cricket, we also nurture individual development within our Performance Sports' programme in tennis, golf, equestrian and shooting, to name a few.
With the Director of Sport being the Head of both the Senior and the Prep school, as a College we benefit from a seamless curriculum and transition from one school to the other, allowing talent and enthusiasm to be uncovered and to be appropriately nurtured and developed.
Rather than compete with academic achievement, we also recognise the value that sporting pursuits have on a young person's studies. Research (from The University of Cambridge Sport and Academic Performance Report) has shown that 'undergraduate students who participated in University-level sport performed just as well academically, if not better, than the undergraduate population as a whole'; a philosophy which we wholeheartedly embrace at Framlingham College.
We are fortunate to have a highly experienced and knowledgeable pool of sports staff, a number of whom have played sport professionally themselves. More importantly, they have achieved significant success in a wide range of competitive coaching environments such as professional club, university, county, divisional, national or international level, or, indeed, in the development of individuals.
These are exciting times for sport at the College and we would very much like you to be part of our success story."

Nick Gandy - Director of Sport
Hockey
We currently have two players in the Great Britain Elite Development Programme, along with six other current pupils in England International programmes. However, we deliberately foster a genuine love of the game and not just at an elite level."
Lisa Letechford, Head of Hockey
From Year 3 right through to Year 13, we have a seamless hockey programme that helps aspiring athletes and amateurs alike.
Above all, developing a love of the game right through the age groups comes first and foremost; for pupils to go out, pick up a stick, feel free and love every minute of it – that's what makes us – and our pupils – tick when it comes to hockey. We foster a love of the game for all abilities and aspirations in our exciting training environments.
Pupils enjoy exceptional facilities, including two all-weather floodlit astro fields, an indoor court and the best video surveillance capabilities in the UK. This 360 Sports Intelligence System consists of ten cameras that means we can film live matches and use the video analysis during training sessions.
Against this backdrop, we are extremely proud to shout about Framlingham's history of hockey success. That's in large part down to our motivating coaches who are unrivalled in their international and national experience and inspire our pupils on a daily basis. Framlingham College are currently the Girls' U18 Tier 1 National Champions, while our U18 boys regularly finish in the top four in the country. To nurture this talent, we offer weekly one-to-one and small group sessions with coaches.
We are firmly on the map as one of the best schools in the UK for hockey. We have two players in the Great Britain Elite development programme and six others in England International programmes. Some of our pupils have gone on to study at world-leading American Universities like IOWA, Stanford, University of Connecticut and William & Mary.
Read about Georgie Gardens being selected for Senior Ladies GB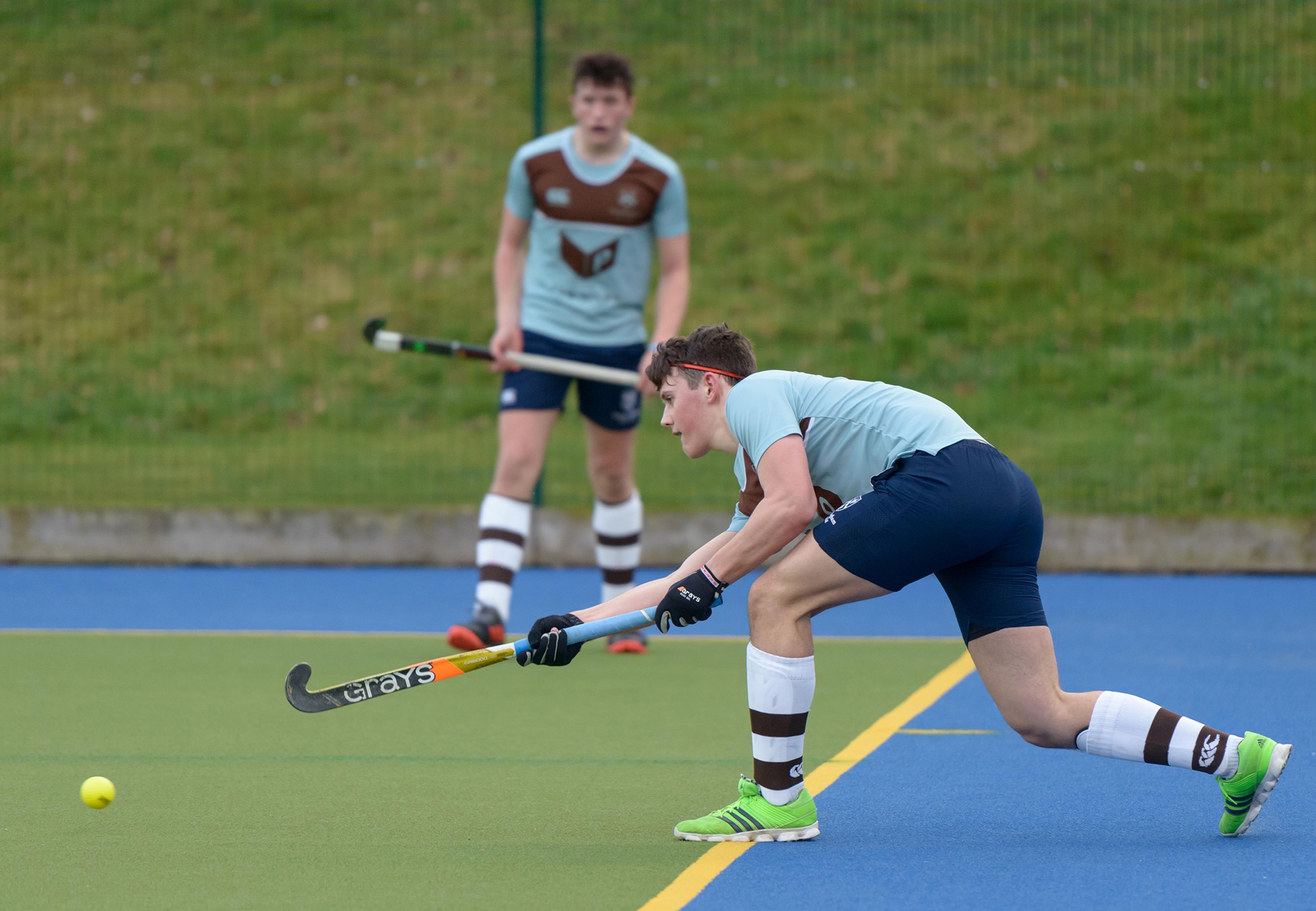 Cricket
The cricket culture here is flourishing: all pupils are enthusiastically encouraged to participate and develop a lifelong love of the game, while extra opportunities for 'stretch & challenge' are made available for those with still more serious ambitions in the sport."
JACK BEAUMONT, Head of Cricket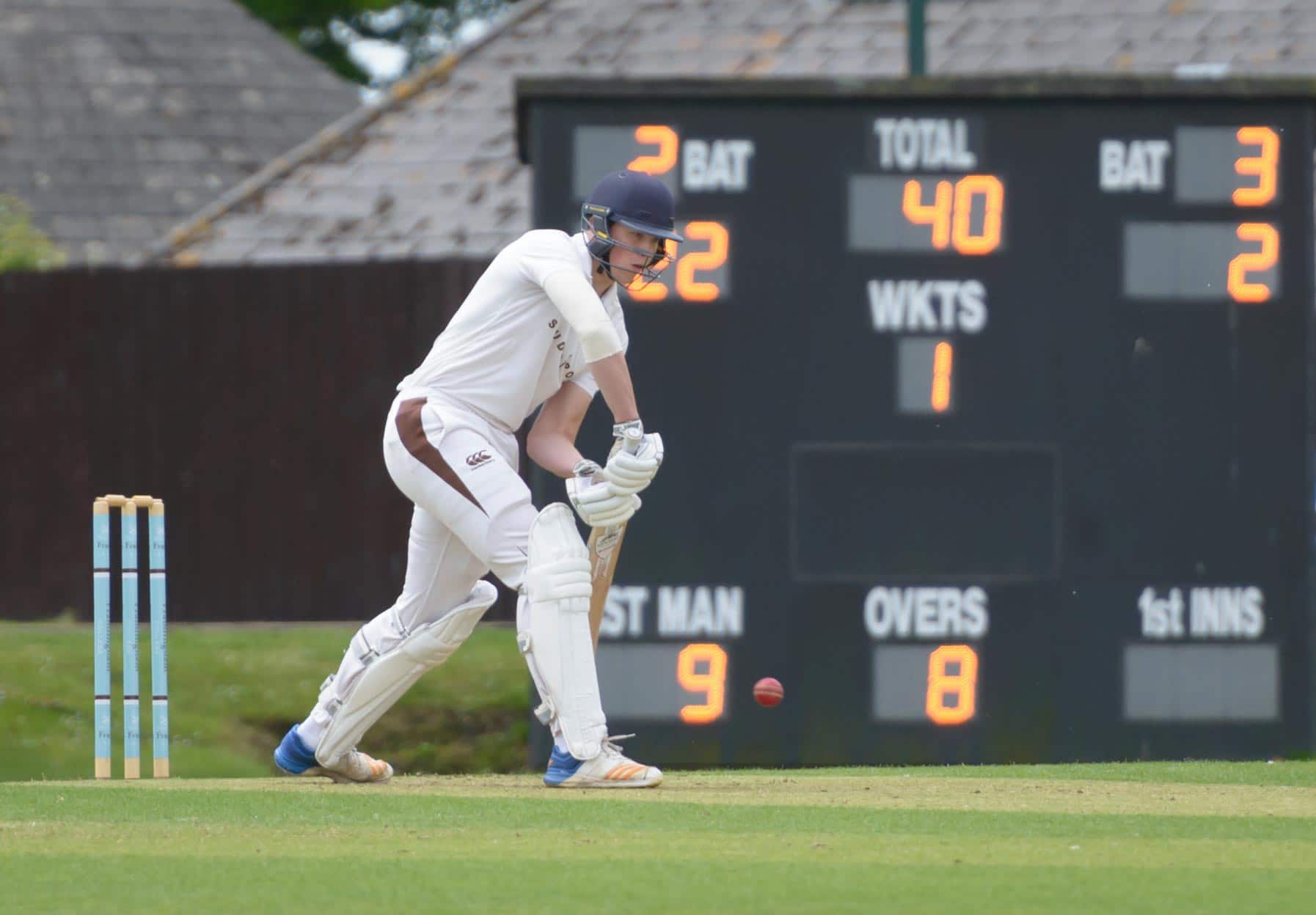 Framlingham College is a very special place for cricket lovers – with very good reason. Despite our modest size, we field nearly 40 teams every week, with girls' cricket growing at an exceptionally fast rate.
The passion, expertise and dedication of our coaching staff creates a high-performance culture that encourages our pupils to enjoy and excel at the sport. Throughout the years, our teams unite elite players and those who play for the love of it.
Our pupils are fortunate to train on five grass cricket grounds at the Senior School, complete with next-generation Flicx wickets. We combine banks of grass and artificial nets with bowling machines and mobile cages. While there are also two floodlit astro pitches for match practice – one with a 360-video analysis to enhance performance. When the weather isn't on side, pupils can head indoors to our two sports halls – complete with both five lane and two lane net systems.
Regardless of ability, pupils can train and play cricket every week of the school year. And with 1-2-1 training sessions available for individual pupils – including scholars – and specialist small group and larger squad coaching, we have a reputation for some of the finest wickets in East Anglia.
It's perhaps unsurprising, then, that Framlingham College remains the only school in either Suffolk or Norfolk to have been in The Cricketer Magazine's Top 100 Schools for the sport for the past five years. As well as against other senior schools, our teams play against the Marylebone Cricket Club  and Cambridge University – and we often host touring sides from Australia, South Africa and India.
We have many affiliations with other professional first-class counties on the cricket circuit and also a formal educational partnership with Northamptonshire County Cricket Club. This gives pupils a clear pathway into professional cricket, with regular opportunities for boys and girls to take part in Academy and Elite Player Programme sessions.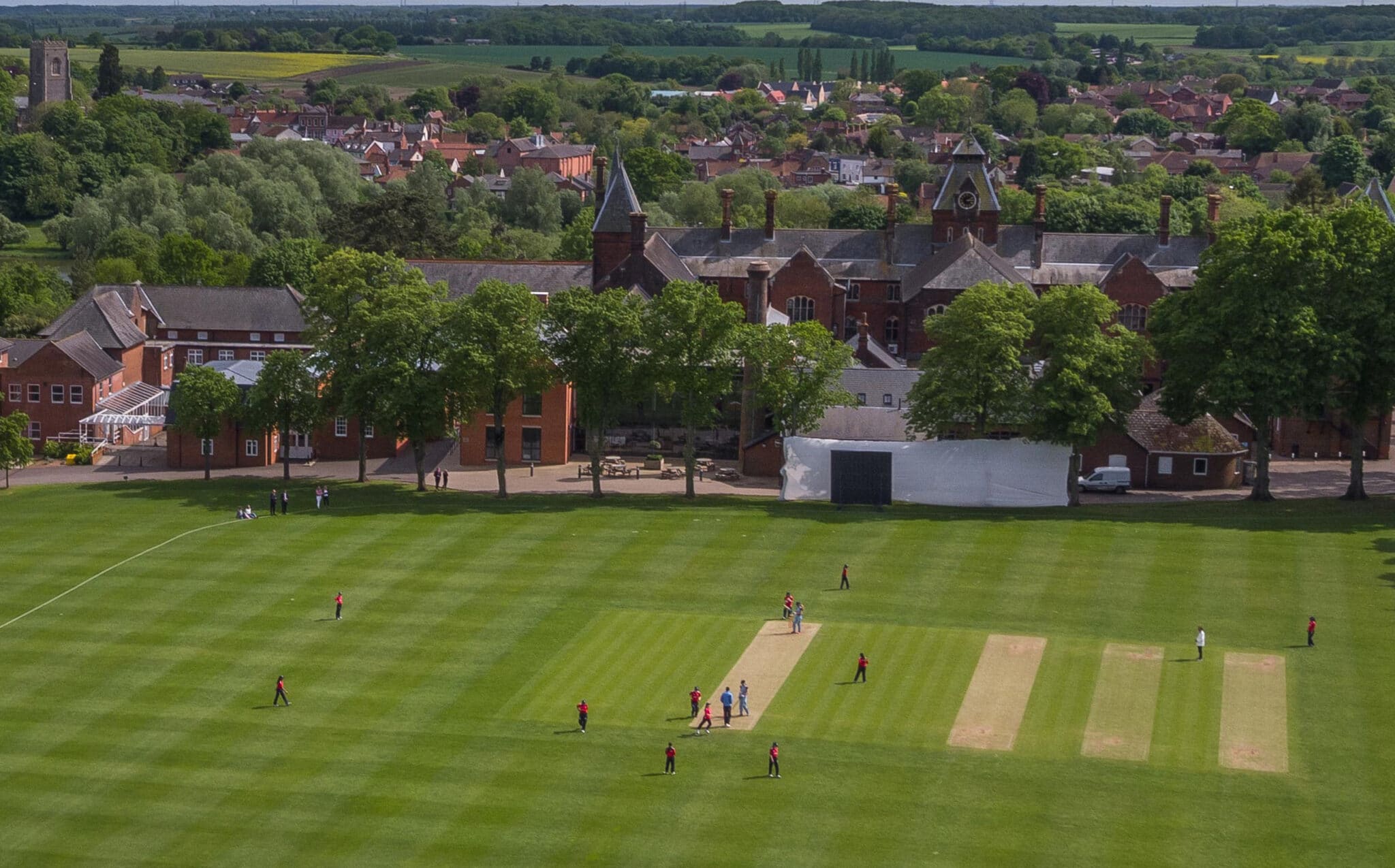 Rugby
Our aim is to enhance individual skill levels by maximising players' exposure to the game and following a common playbook across the school."

NICK GANDY, Head of Rugby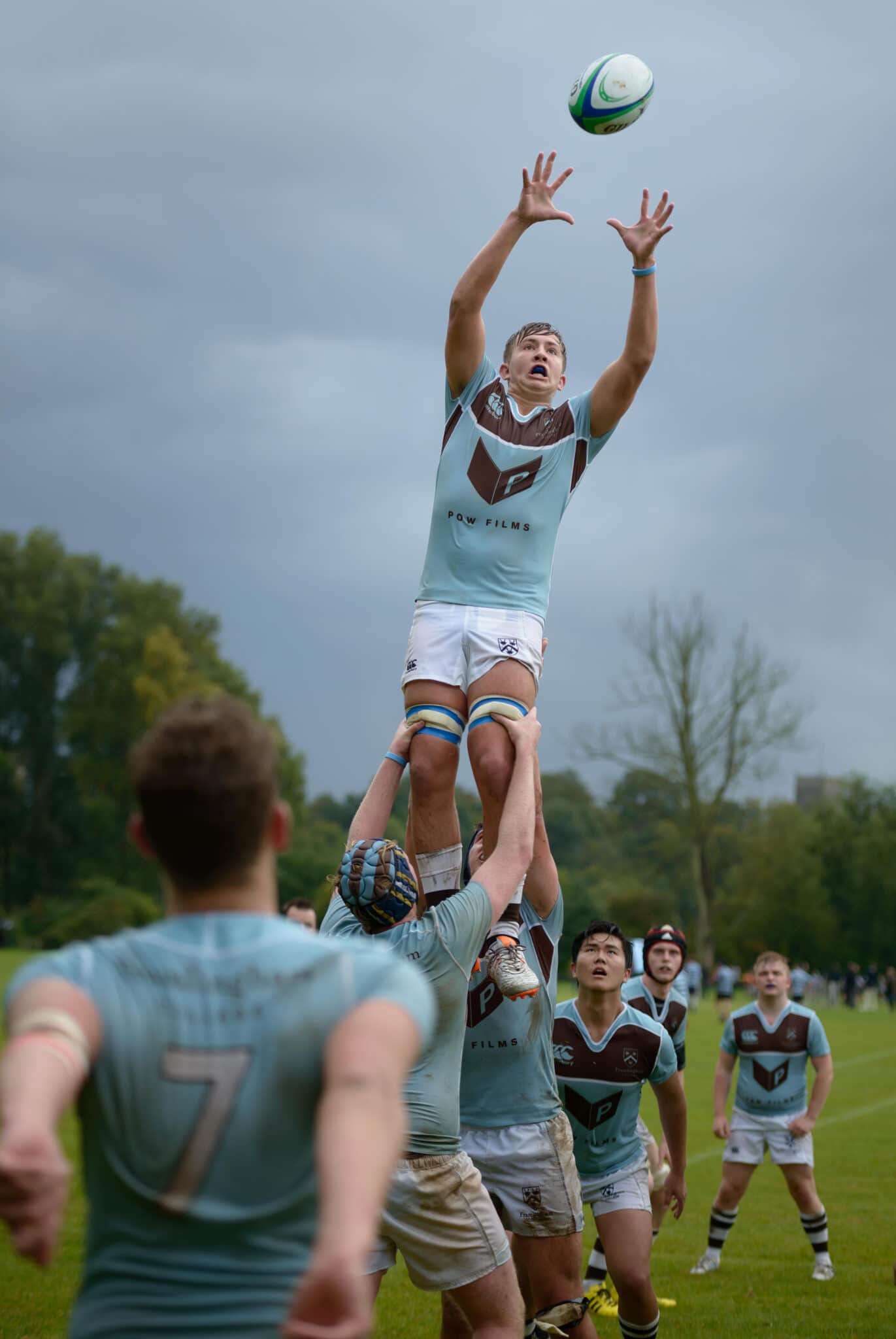 Rugby is the major boys' sport played in the Autumn Term across all year groups, delivered throughout the College by our dedicated teachers, many of whom have either played or coached international or representative rugby.
Our whole-school approach ensures that everyone has an opportunity to represent the school in the immediately recognisable light blue and brown colours of Framlingham College. In the Spring Term we focus on 7s rugby, and extra-curricular training. Touch rugby is available in the Summer Term.
We are fortunate to have access to over 80 acres, nestled deep in the Suffolk countryside. The 1st XV and 2nd XV pitches are known as 'Lords'. We also regularly train on a huge playing area called 'Dickson's', easily accessible from each of the four boys' Houses. To promote strength and conditioning and ensure injury prevention and rehabilitation, we make use of our extensive on-site gym with two dedicated weights rooms, a cardio-vascular training suite, and a swimming pool to aid with recovery.
We are proud to have strong links with Suffolk County RFC, Eastern Counties RFC and Northampton Saints with many involved in the Northampton Saints Developing Players Programme (DPP), Elite Performance Group (EPG) and, ultimately, the U18 Saints Academy.
From such inspiring beginnings, several Old Framlinghamians have enjoyed professional success, going on to sign contracts in Denmark, South Africa, France, Leicester Tigers, Wasps, Nottingham, Northampton Saints and the England U18s and England U20s.
Netball
Our netball players relentlessly strive for success, enjoyment and a wholehearted sense of team belonging. Players here are unique because they are not afraid to work hard for each other, which I strongly believe sets us apart."

Lucy Collishaw, Head of Netball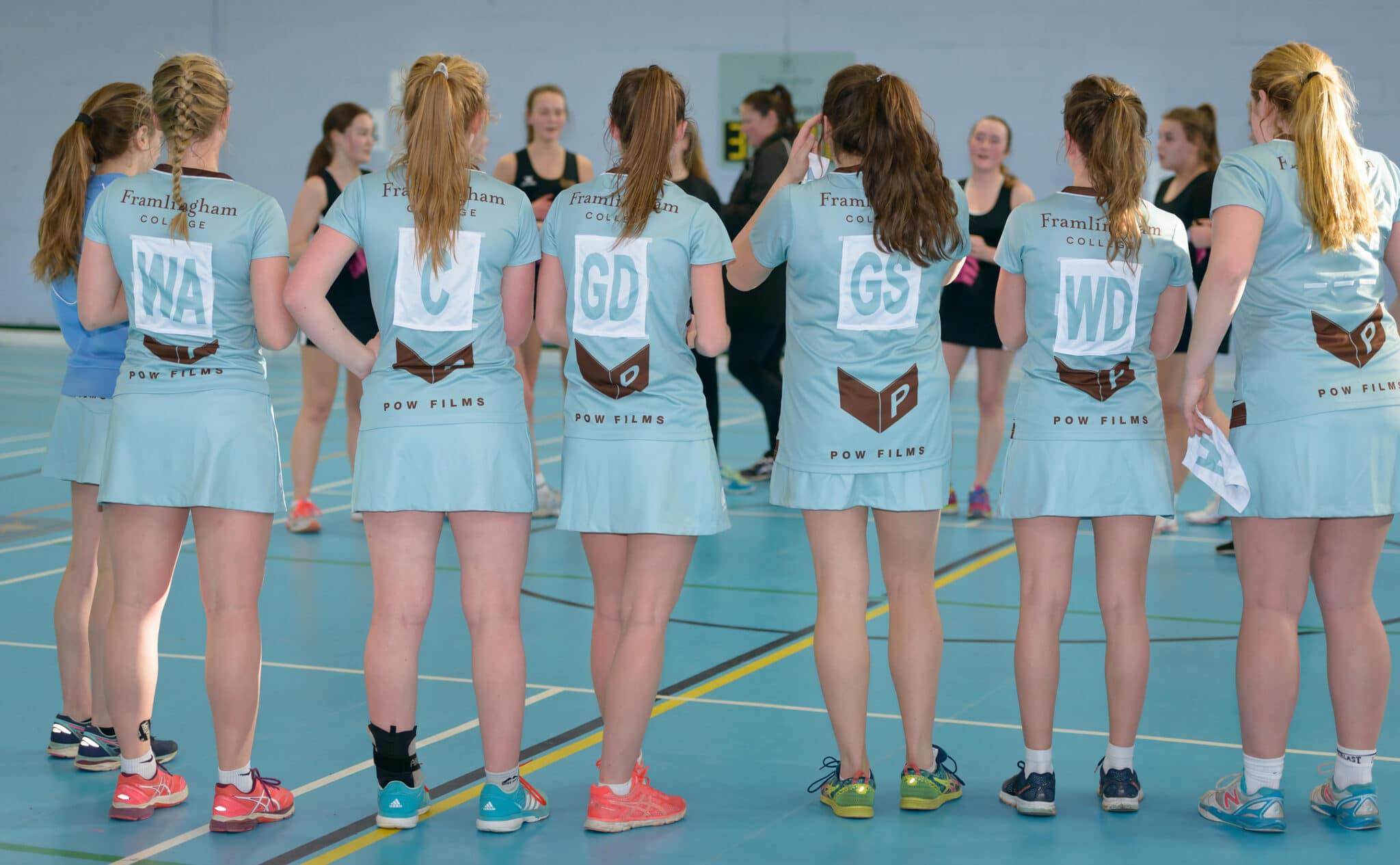 Netball is the focus sport for girls in the Spring Term at Framlingham College and one that is building from strength to strength.
In recent years we have seen an upward trend of success with a constantly evolving, year-round programme. Girls are wholly committed to the sport, and love training and competing for the College. We play against the strongest netballing schools in the region, achieving excellent results on court, whilst at the same time, ensuring that all pupils have an opportunity to represent their school, regardless of ability.
We have a fully equipped sports hall, which hosts the A team and 1st team matches on a block fixture day. All pupils have the opportunity to train in the sports hall throughout the season, and then play matches on the three outdoor floodlit courts. We are able to call upon the expertise of our strength and conditioning coaches, who, unique to Framlingham College, have experience working in high-performance environments. This is all within our extensive on-site gym with two dedicated weights rooms and a cardio-vascular training suite.
In past seasons, we have seen success at county level in all age groups, leading to regional finals narrowly missing a place at the National Finals. Netball tours are also available across the College. Recently we travelled to Dubai and took part in the Dubai International Tournament. We were runners-up with one of our players deservedly awarded 'player of the games.'
We are delighted to have a number of pupils accessing the first steps of the England netball performance pathway, and currently undertaking regular training with their respective county squads.
Our Performance Sports
Those sports that are more individual in nature fall into our category of Performance Sports, in which several of our tennis players, golfers and riders have represented regional and national squads while at Framlingham College. We retain the services of a PGA Teaching professional for our Golf programme and we have outstanding Tennis provision where we are currently home to some of the highest-ranked players in the country.
Our highly experienced sporting staff also help to facilitate equestrian sports and shooting. We offer our pupils outstanding facilities, which are all situated on-site, as well as partnerships to support our sporting offering such as the close relationship we enjoy with Aldeburgh Golf Club, which has been consistently ranked in the Top 100 Courses in the UK.
Our pupils can access our on-site fitness suites and the swimming pool at various times during the school day, where they are supported by qualified and knowledgeable staff.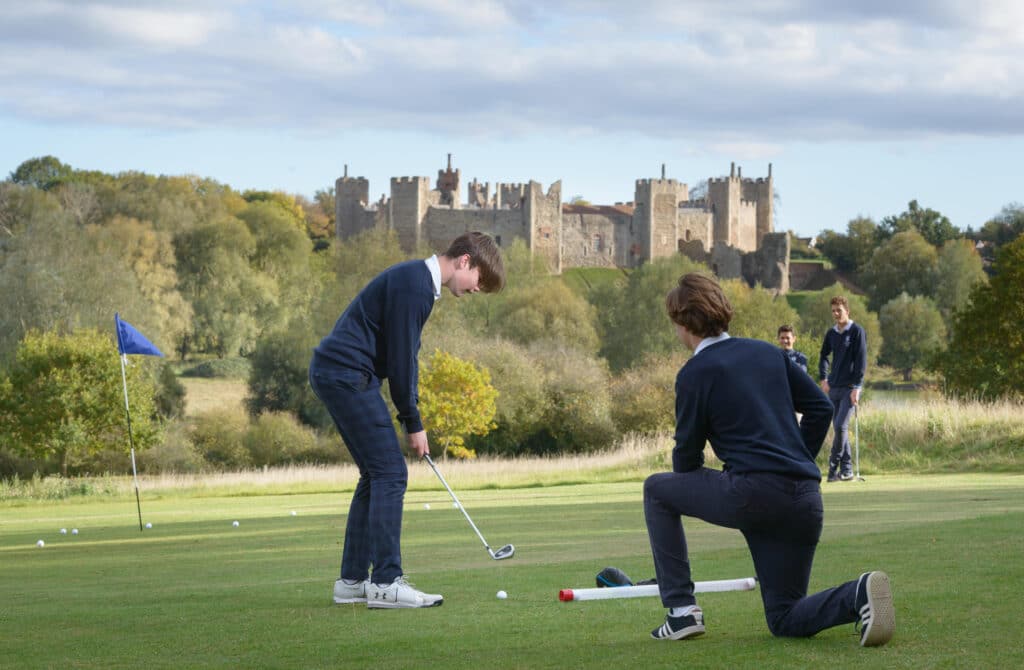 Pathways to Excellence
We are committed to providing the best possible environment for our talented young athletes in order to help them achieve their sporting ambitions whilst concurrently realising their full academic potential. We expect our Sports Scholars to be role models and ambassadors, setting the standards for younger pupils as well as their contemporaries. They should demonstrate the highest levels of sportsmanship, respect, commitment and pride in the College's ethos.
Our Sport Scholars Pathway takes a comprehensive approach to a child's development and sporting excellence, including Individual Coaching and Mentoring, Regular Competition and Fixtures, Support and Development, Individual Focus and Next Steps mentoring, for life and careers after Framlingham College.
Read our Scholarship Pathways Booklet on our Scholarships page to discover more.