We offer a thriving Creative and Performing Arts programme at Framlingham College. At the heart of this is the development of creativity in our pupils – creative expression, creative thinking, problem solving, cognitive flexibility – all inherently human skills in an increasingly digital world.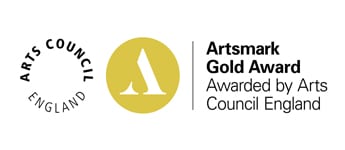 To demonstrate our commitment in this area, we are immensely proud that the College is working towards the Platinum 'Artsmark', the only creative quality standard for schools, accredited by Arts Council England. This framework enables us to provide a cohesive approach to the arts across disciplines and helps embed a deep appreciation of the arts within every pupil.
There is also the opportunity, beginning in the Prep school and culminating in the Senior school, for pupils to gain their 'Arts Award', an achievement which celebrates individual creative development in young people. All pupils at the Prep school will be engaged in the Discover, Explore and Bronze awards, building up to Silver and Gold in the Senior school.
Read more about the Arts Award here
With the Directors of Music and Drama being the Heads of both the Senior and the Prep school, as a College we have the advantage of a seamless curriculum and transition from one school to the other, allowing talent and enthusiasm to be uncovered and to be appropriately nurtured and developed.
We are all born as creative, inquisitive and curious individuals. As we grow, so do our inhibitions, which in turn restricts our willingness to be creative and inventive. The creative arts, both performing and visual, help to keep these innate qualities alive. In a more complex society, we increasingly depend on the creative individual."

Dame Darcey Bussell DBE, Former Principal of The Royal Ballet
Drama
For Senior School Framlinghamians a love of theatre is deeply instilled, due in large part to our wonderful on-site Headmaster Porter Theatre, which allows the whole school community to come together for school concerts, assemblies, events and shows. Our state-of-the-art Drama facilities allow our pupils to experience all aspects of production from set design, performance, sound engineering and costume design and the flexibility of our theatre space provides our pupils with the thrill of working on different performance configurations from 'black box set' to a 'traverse' or even 'theatre in the round'.
With access to such superb facilities, including two drama studios and rehearsal spaces, as well as the support and creative commitment from our Drama technicians, pupils are able to put on inventive and impressive performances which are reflected in our outstanding Drama results. The theatre is also a place where we host visiting speakers and theatre companies, like Gecko and Frantic Assembly, who carry out workshops with our students on site.
Framlingham pupils, throughout their time at the College, are able to explore all aspects of production from acting to set design, lighting design, sound engineering and costume design."

Ted Moore, Director of Drama
We offer students in the Sixth Form the opportunity to take productions to the Edinburgh Fringe Festival and recently Framlingham College Drama was hosted by the Moscow International Film School where we worked on a collaborative production based on the tales of King Arthur.
Such an immersive and comprehensive introduction to Drama has paved the way for Framlinghamian pupils to audition for the National Youth Theatre and achieve sought after Drama school places post school.
Music
Music is an intrinsic sound of our school – whether it's during Chapel, weekly rhythm sessions or House Singing. Regular formal concerts, informal recitals and acoustic nights ensure that every member of our community takes part, with music uniting us and fuelling our sense of celebration and community.
Pupils can enjoy Cantus (a large non-audition choir), the Cambiata choir (a boys' choir for Years 7 – 9) and Cappella Lumina (a smaller 'elite' chamber choir). We also offer Orchestra, Concert Band, Big Band, Percussion Ensemble and Ukulele Orchestra, as well as smaller chamber music groups.
We have a fantastic team of dedicated and inspiring Visiting Music Teachers who give individual instrumental and singing lessons. In Year 9, pupils learn to take creative risks, while also developing their understanding of key musical concepts through composition, performance and listening.  From Year 10 onwards, we offer GCSE Music, A Level Music and two different Level 3 BTEC courses – Music Performance and Sound Engineering.
We believe that every child is musical, and it is our goal to encourage and nurture musicianship regardless of standard of playing or composing, genre or discipline. "

Lucy Bloore, Director of Music
Step into our Music School and it's a lively, energetic hub of creativity, where expression, curiosity and risk-taking are all encouraged. It boasts fantastic teaching, rehearsal and technology facilities, as well as a suite of spacious practice rooms. Our state-of-the-art recording studio (complete with a live room) is a fantastic resource, where pupils can learn recording skills as performers, as well as technicians. We have Apple Macs in all of our teaching spaces, using Logic Pro for sequencing, mixing and mastering and Sibelius and Dorico for score writing.
We are proud of our scholars' programme, that develops our most able musicians. Our growing partnership with St Mary-le-Tower offers choral scholarships. There are other opportunities for our scholars out of school, as well as advice and preparation for auditions for national and advanced schemes. Current music scholars are members of National Youth Choirs GB, National Youth Strings Ensemble and Aldeburgh Young Musicians.
Art
Framlingham artists are supported in any media – with extraordinary opportunities to express themselves creatively and imaginatively. From traditional painting, drawing, printmaking, ceramics and sculpture, fashion and textiles to more modern media such as photography, graphics, film or even 3D modelling and animation.
We want every young artist to find – even surpass – their potential, and our large, light, airy studios are the perfect settings for their creative journeys. Pupils can enjoy developing their own photos in our traditional darkroom, pottery work on the throwing wheels and in the kiln, or easels for large canvas work – often drawing from our vast, beautiful grounds for inspiration.
Wherever their creativity and imagination can take them, we will guide them on this journey and give them the skills to excel in their chosen creative field."

Sue Tansley, Director of Art
In Year 9, pupils are introduced to every aspect of the Art and Design curriculum; in this way they can make informed GCSE choices. Once they choose this topic for GCSE, pupils explore and experiment in either lens-based media (like photography) or traditional media (such as painting and textiles). With many carrying on with Art and Design at A Level, it becomes about each pupil having a Eureka moment in their creative journey. This is when they truly discover what kind of artist they are.
Our recent creative leavers have gone on to study at: Leeds, Nottingham Trent, Ravensbourne, Falmouth, Norwich University of the Arts, De Montford, Bristol, Oxford Brookes, Bath Spa and UAL Camberwell. And we are immensely proud of having regular winners in both regional and national competitions.
Design & Technology
Senior Framlinghamians are encouraged to experiment with a wide range of equipment and materials when it comes to Design and Technology.
An exceptional level of creativity emanates from the department and pupils continuously produce outstanding projects – from foundry work and woodturning to silver jewellery, to more contemporary pieces using 3D printing and laser cutters.
Pupils are never short of an inspirational space in which to create: the DT department has the luxury of two fully-maintained and serviced workshops, two design studios, a computer design suite and a jewellery workshop – with Year 9 particularly enjoy using this smaller space to create their silver rings and bracelets.
The Department prides itself on its ability to offer pupils both traditional and contemporary designing and manufacturing techniques, in a facility equipped with ample space for pupils to explore and develop their own ideas."

James Buxton, Director of Design & Technology
Computers in the department are equipped with 3D modelling software and are linked to CAM facilities, including a CNC router, 3D printers and Laser Cutter – enjoyed by Year 11 during their GCSE projects.
After their DT journey at Framlingham, many pupils take the skills they've learnt further, with recent pupils going on to study creative and technical degrees – from Industrial Design and Mechanical Engineering, to Architecture and Game Design. Some have even gone on to start their own enterprises – designing, making and selling their homewares and jewellery.