Life at Framlingham College has been described by some of our pupils as varied, collaborative, interesting, busy, supportive, fun, inspiring and challenging. All of them say that wherever you turn, there is always a helping hand.
Hear more about how our pupils describe Life at Framlingham College:
Billie - Year 8 Day Pupil
A typical day for me begins with my journey to school from Earl Soham at around 7.45am. It feels far too early when I wake up, but I find it's worth it when I get into school and see my friends first thing. We stay with our tutor groups until lessons start at 8.30am. We have an assembly on a Monday morning, but most other mornings we can chat to each other and sometimes play games or quizzes.
Morning lessons start for three periods and last until break time at 10.30am. By this time, everyone is absolutely starving and can't wait to get their snack before venturing out onto the hard courts for a quick game of netball, or just a walk around the school field. The Year 8 pupils have our own designated area within the school where we can socialise and just hang out when we want to – this is where I spend most of my breaks. It's good to start feeling a bit more independent and responsible and here we don't have as many people so it's usually nice and quiet.
At lunchtime, we go to the dining hall in our year groups and enjoy a hot meal. Fridays are always the best as we have fish and chips. My favourite dessert has got to be waffles with chocolate ice cream. Sometimes we even get seconds of waffles if there's enough!
When lessons finish at 4pm, the school doesn't stop. There are so many different clubs and activities on offer for all year groups. I am part of the school's senior debating team and we meet on Tuesdays to debate topics that we have chosen ourselves. I go to badminton and table tennis as an activity on Friday, and on Thursday I have Senior Production. All Year 7 and 8 pupils get involved in the Senior Production – this year we have been working on 'Around the World in 80 Days'. Production Week at the Senior School is always a highlight of the year, especially as we get a whole week at the Headmaster Porter Theatre in home clothes practicing and perfecting the play.
Being a day pupil at Framlingham College Prep School means that I can fully involve myself in all aspects of school life, and then go home each evening. I can choose to board if I do want to stay at the end of a busier day. I am excited about moving on after the Prep School and feel that I am ready for that challenge.
Martha - Sixth Form boarder
I am now midway through my Lower Sixth year as a boarder in Moreau House and I thought I would take you through a typical day in the life as a pupil at the College:
After waking up and getting ready for the day ahead, I walk to the impressive dining hall for breakfast with the other boarders in my house. We are spoilt for choice with the range of excellent food on offer and then return back to house for a roll call. We grab our books for the morning lessons and go to see our tutor – I meet with her twice a week. During this time with her we are able to ask questions about the upcoming week, discuss our feelings and any problems that we are facing. Building a relationship with my tutor has always been very important to me, because it has allowed me to open up and get advice when I need it. Then, off to lessons it is. I take history, geography and economics, and I am passionate about all three subjects. My lessons are fun and engaging and now that I'm in Sixth Form, the classes are smaller and the teachers give us more responsibility to undertake our own research.
The Sixth Form timetable provides us with 'study periods' where we get a chance to catch up on work in our House or the Sixth Form Centre. Sometimes I use it to grab a teacher and run through a topic that I might not have fully understood in the classroom. Once afternoon lessons have finished it is usually time for extra curricular activities. I have always taken part in the sports on offer and have played for school teams in hockey, netball and tennis. The facilities and coaching are exceptional and the school teams often reach national finals. When we're not playing, we are encouraged to go and support others, cheering on a touchline or by the astro pitch has always been exhilarating. I'm also taking part in the strength and conditioning programme and benefit from personalised gym training sessions which help me keep fit and healthy.
Of course, sport is not the only extra curricular activity – many pupils take part in CCF, drama, music and other options. Personally, I have chosen to undertake the Duke of Edinburgh scheme and am working towards my Gold award. This has involved trekking and camping trips outside school, as well as volunteering. A friend and I enjoy spending time visiting an elderly resident in Framlingham; we love hearing her stories and laughing together.
In the evening from seven until nine o'clock, we have a designated prep time. This enables me to stay on top of my work and make some extra revision notes. After this time I tend to chat to friends, or the teacher on duty, before crashing into bed after yet another amazing day at the College!
Daily Routines
Daily routines for the Prep and Senior School (Academic Year 2023/24)
Food at Framlingham
Led by the Kitchen Manager, our catering team is responsible for producing diverse and interesting menus across breakfast, lunch and dinner seven days a week at both the Senior and Prep school as well as delivering the wide range of events held at the Senior school, including House Dinners and the famous Leavers Ball.
For lunch, pupils and staff can choose from a selection of main dishes, a salad bar, soup, fruit and delicious homemade desserts. A range of cooked and continental choices are available for breakfast and those having supper also enjoy a variety of tempting dishes from around the world. The experienced chefs prepare all dishes in both Prep and Senior School kitchens from fresh, seasonal ingredients which are sourced from a select group of local producers. The kitchens are completely nut free and cater for all allergies and special dietary requirements.
In order to deliver a comprehensive service to all of our pupils and staff, several of the catering team have recently undertaken nutritional based training, with one member of staff specialising in mindful nutrition. This allows us to have a greater understanding of how we can best cater for those that have individual dietary needs, whether due to sports training, intolerances, allergies or religious beliefs.
An army marches on its stomach."

Frederick the Great
The catering teams are always trying to challenge the pupil's tastes and encourage them to try new and exciting foods. A new three weekly menu is released every term with each one containing a number of dishes based on feedback from our pupils through surveys and regular meetings.
Both the Senior and Prep schools have an enviable reputation for producing superb Match Teas which are enjoyed by parents visiting for sports fixtures. Whether it's sandwiches, cakes, scones or a warming soup with a freshly baked roll, everything we do is prepared and cooked on the day.
We have consistently achieved the highest 5 star rating for our food hygiene standards and in early 2020, the Senior School was awarded the Eat Out Eat Well Gold Award by East Suffolk Healthy Living which was only achieved by a handful of other organisations and certainly the only school.
Spiritual Life at Framlingham
The vibrant Framlingham College Community of pupils, staff, parents, OFs and friends, is as much a spiritual entity as it is a place with the chapel at its beating heart. A chapel that has, for over 150 years, offered a place of stillness, a home of Christian tradition, a seat of spiritual learning and a light of love for all involved. It is a Chapel whose tradition and history can be felt as much through its memorials to past pupils and teachers, as through the hearty singing of hymns twice a week before the school day begins.
The Chapel welcomes all, those of faith and those with none, and as part of an holistic educational development, it invites every pupil and staff member to reflect on their belief systems, to pondåer the 'Why' questions in life and to look to serve rather than be served.
Various forms of worship scaffold the College calendar. A calendar that marks the Remembrance Service, the Confirmation Service, Founders' Day, a Community Harvest Celebration, the Leavers' Service and the Carol Service as a few of the highlights. Every two years, the College celebrates its Carol Service in St Edmundsbury Cathedral. Our Remembrance Service is an occasion for us to pause and remember the Fallen and in 2020, our Remembrance Service was streamed via YouTube to thousands of parents and OFs  and weekly chapel services during lockdown have ensured that the community has stayed connected.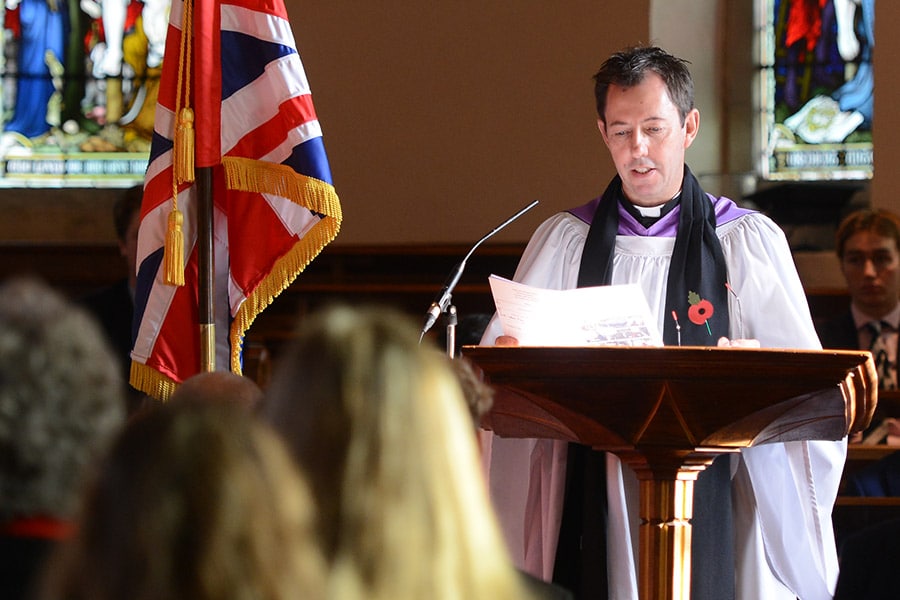 In this age of increased pressure on young people, on their wellbeing and mental health, the chapel brings much needed peace, space to think and time to reflect"

Brynn Bayman, College Chaplain
The Senior School ordinarily meets twice a week in the chapel and the Prep School meet once a week in All Saints Church, Brandeston. Midweek Communion, Soul Food, Confirmation classes, Divinity and the Chaplain's Lunches are just some of the other opportunities for our community to come together and reflect on the bigger questions in life. Our links to the wider community in Framlingham are important to us and through the Chapel and the outreach work of our chaplain, Rev Canon Brynn Bayman, we work hard to ensure those links remain strong. Whether through the community Harvest Festival and lunch, through the sharing of our chapel for different events or through our fundraising, the College community is committed to staying connected and fully engaged with our wider community.
In this age of increased pressure on young people, on their wellbeing and mental health, the chapel brings much needed peace, space to think and time to reflect. We help our young people to find their moral compass, to develop an empathy for all Faiths, Creeds and Religions and a selflessness to put others first.