We run an extensive swimming programme for children and adults in our 20m long pool.
We welcome swimmers of any ability and age and members* can benefit from daily swimming (3 lanes for lane swimming and 2 lanes for recreational swimmers) as well as Sunday family sessions (11:00 – 14:00).
In addition, our community swimming lessons provide the opportunity for children to participate in 12/10 week courses throughout the academic year (Sept – July) as well as intensive swimming programmes in the Easter and Summer holidays.
We also run Rookie Lifeguard and Junior Swimfit classes during the same community swimming periods. Private lessons and tuition are available on request.
See below for further details for 2023 dates and enrolment.
For all enquiries or questions please email swimming@framlinghamcollege.co.uk
Summer Intensive swimming lessons
5 x 30 minute lessons will take place during Monday 31 July – Friday 4 August (Week 1) and Monday 21 August to Friday 25 August (Week 2).  Stages 1-3 will run three class time options 09:30, 10:00, 10:30. Stages 4-6 sessions will run at 10.30 and 11.00. Group sizes varying between stages, but will be up to a maximum of six children per group. £50 for the full week.
Summer Rookie lifeguards/Junior Swimfit
5 x 45 minute sessions will take place at during Monday 31 July – Friday 4 August (Week 1) and Monday 21 August to Friday 25 August (Week 2). Class at 11:00, maximum of 12 participants per group. £60 for the full week plus free Rookie Lifeguard T-shirt.
Autumn Term 2023 swimming lessons
For stages 1-6 and Rookie Lifeguards/Junior Swimfit.  Classes take place on Saturdays, Mondays, Wednesdays and Thursdays (specific times outlined below) for 12 weeks starting from Wednesday 6th September.  Swimming lessons 30 minutes each – £114 for 12 week course (£9.50 per session).  Rookie Lifeguard/Swimfit sessions 45 minutes each – £132 for 12 week course (£11 per session).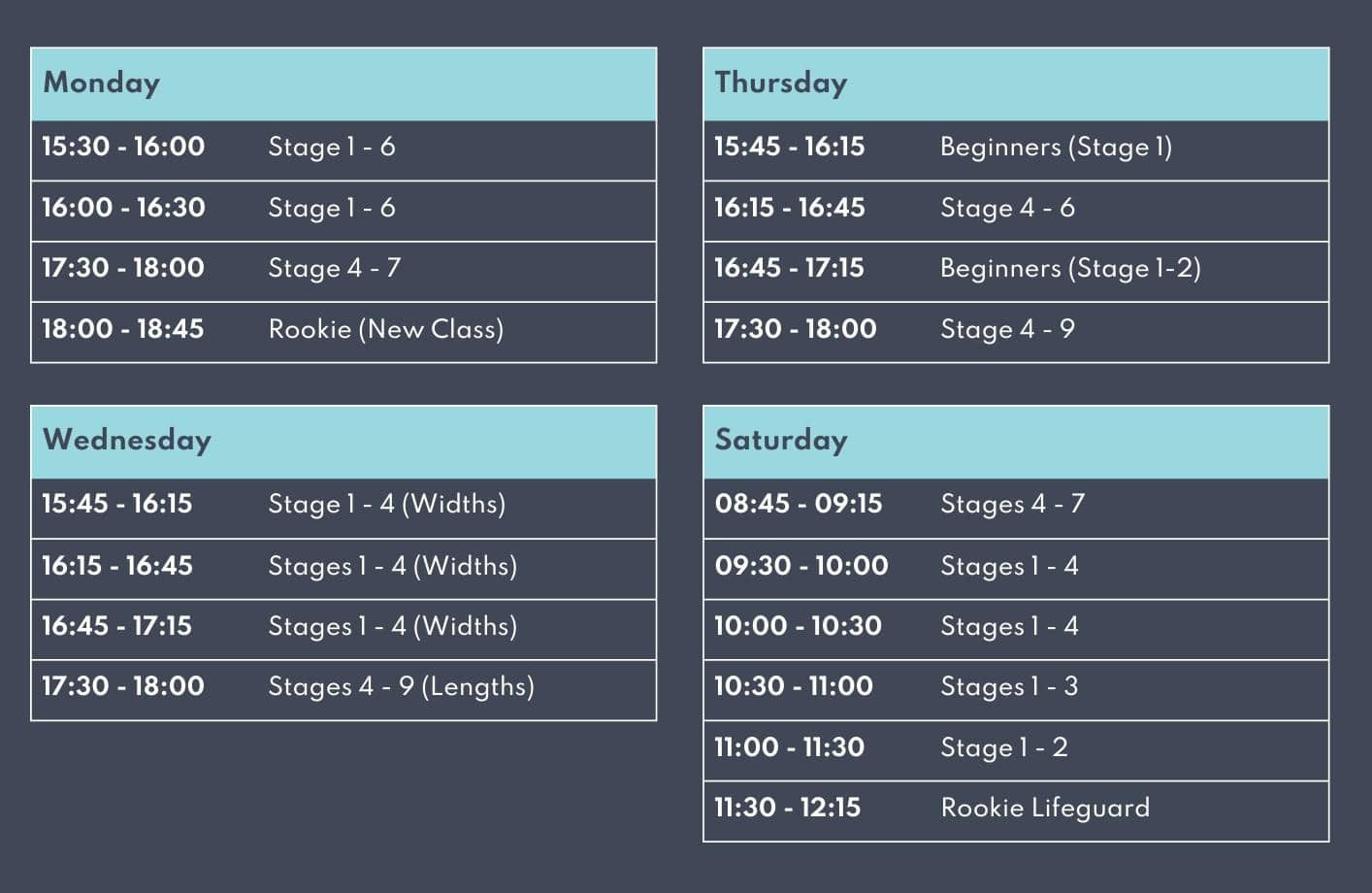 Class dates
Saturdays – 9th /16th/23rd/30th September, 7th/14th/21st October, 11th/18th/25th November, 2nd/9th December.
Mondays – 11th/ 18th/25th September, 2nd/9th/16th October, 6th/13th/ 20th/27th November, 4th & 11th December.
Wednesdays – 6th/13th/20th/27th September, 4th/11th/18th October, 8th/15th/22nd/29th November, 6th December.
Thursdays – 7th/14th/21st/28th September, 5th/12th/19th October, 9th/16th/23rd/30th November, 7th December.
Payment options
Preferred payment is by BACS.  Barclays Bank, Account Name:  Fram Leisure CCC, Account Number:  60744689 / Sort Code:  20-98-15
Reference – Quote "SWIMINTENSIVE23" or "SWIMAUTUMN23" and your family name or children's full name(s) if different to your family name as your reference.  PLEASE SEND CONFIRMATION OF BACS PAYMENT BY EMAIL TO SECURE YOUR CHILD'S PLACE.
Alternatively payment can be made by card at the Sports Centre Reception.
Progression and distance certificates and badges will be available upon request when your child has completed the appropriate stage or distance and can be purchased together for £5.
Hats are compulsory and children must wear the correct coloured hat for their stage. Hats can be purchased at reception at a cost of £2.50 each.
HAT COLOURS:  STAGE: 1 RED, 2 YELLOW, 3 BLUE, 4 GREEN, 5 ORANGE, 6 WHITE, 7 PURPLE, 8-10 BLACK