Year 9 pupils are celebrating after raising over £400 from hosting the year group's popular charity event.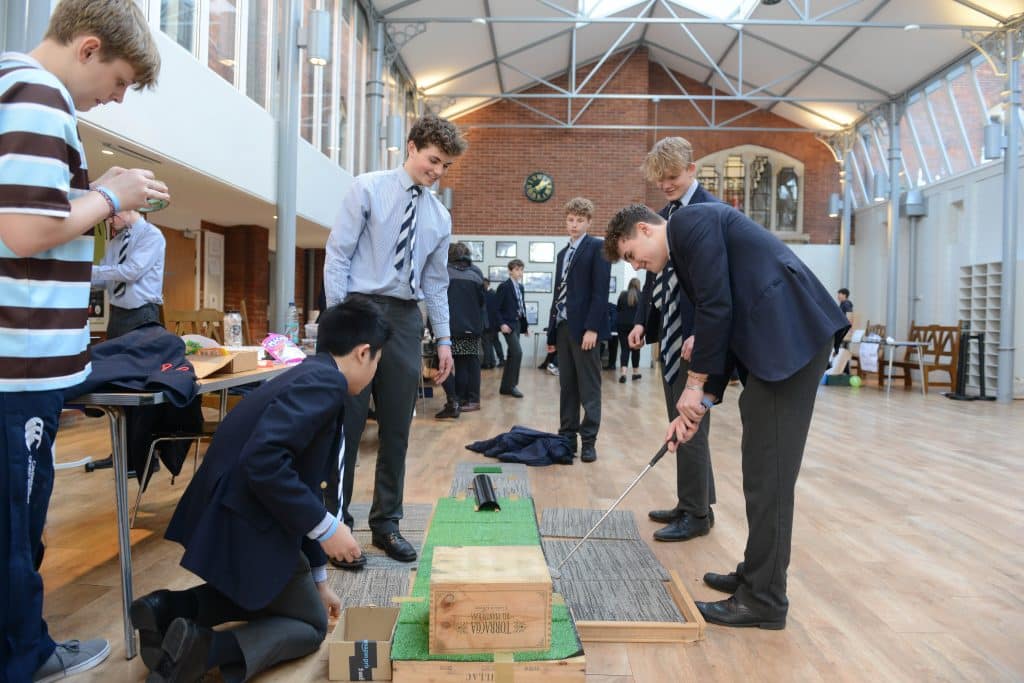 Supporting the volunteering element of their Bronze Duke of Edinburgh Award (DofE), the event sees small groups of pupils develop a selection of 'stalls', requiring participants to display mental and physical problem-solving skills in order to win prizes and all-important leaderboard status.
From innovative games like the 'bottle flipping challenge', 'balloon pop' and 'chopstick pick up', to the more traditional ones including the 'golf putting competition' and 'splat the rat', the Year 9 pupils created all the fun of the fair for their peers to enjoy and get the competitive spirits soaring – all in the name of charity fundraising.
Creators of the event's most popular 'finish the song lyrics' game, Maya C and Ruby B certainly had the crowd waiting in their droves to battle it out and prove their pop classics knowledge to gain the lyrical upper hand. Commenting on the event, Maya said: 'It's been really fun, we enjoyed playing the game so we thought others would too. It definitely got competitive.'
Funds from the event will go to both the Disasters Emergency Committee's Turkey-Syria Earthquake appeal and the College's charity of the term, BEAT. Each term, the school's Charity Committee nominate a charity to be the beneficiary of the College's fundraising efforts. Commenting on how the committee chose BEAT, Head of the Charity Committee, Year 13 Sophie L said: "Eating disorders are still a major issue today; around 1.25 million people in the UK suffer from these illnesses, many in secret. I think people are still quite ignorant when it comes to eating disorders and always assume that it's just anorexia, but there are so many different types which, as a community, we need to look out for. BEAT is able to educate us on how to deal with eating disorders for personal reasons or just how to support friends or families who are struggling with such challenges. We want all pupils to become more aware of the issue and to be more sensitive about dealing with it and to let those in our community who are struggling know that there is always help available."
Thom Salisbury, Head of Philosophy & RS and Politics is the Year 9 DofE programme coordinator. He said: "The Year 9s have done extremely well to plan and execute their activities this year. Over the course of this term's DofE activity time, they have planned, built, and coordinated their group projects, with little need for my support or guidance, with great success."
The College has been recognised as one of the leading Schools in the country for the number of Duke of Edinburgh (DofE) awards achieved by pupils. All Year 9s undertake their Bronze, supporting the DofE goal to ensure the scheme is accessible to as many young people as possible.
Emily Matson, Head of Year 9 said: "I'm so proud of all the Year 9 pupils for displaying such enthusiasm to get the charity event up and running and for raising such a respectable amount of money. They have all had to demonstrate essential skills such as critical thinking, problem-solving, teamwork and creativity to get to this point. As a community, there's been a real sense of kindness and generosity on display, and everyone looks as though they've had quite a lot of fun along the way!"