Framlingham College's U16 girls have taken the National Champions title in the England Hockey Indoor National Finals, with our U18 girls also showing exemplary levels of hard work and determination to take third place in their competition.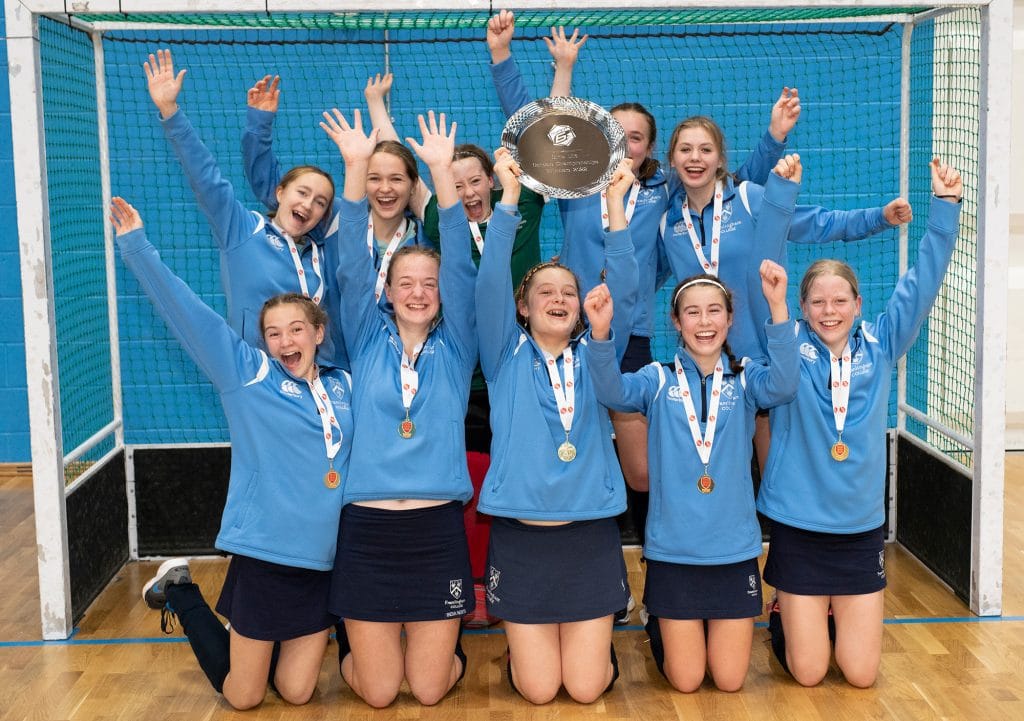 The U16 squad, made up of Anna C (C), Sophie B, Emily H, Alex P-S, Beth G, India N, Poppy D-R, Loulou F, Alicia P and youngest team member, Maya C, Year 8, clinched the title after a tense and nail-biting final match against perennial winners, Repton School.
During a highly excited and positivity-infused team interview, the squad deemed their experience as 'crazy', 'amazing' and like 'being in a movie' and put their success down to team spirit, hard work (all the late training sessions), trust, friendship and a want to 'do it for each other'.
The win came in the final few seconds of the game after a show of real strength and teamwork from all players, which saw Loulou F score the all-important goal which she describes as a tense but immensely proud moment (not least because she had in fact been playing a defensive position for most of the game).
Captain, Anna C, said of the win: "We knew we had the opportunity to win because we had used the first few rounds of the competition to build up our confidence and calm our nerves so when it came to the final, we knew we could do it.
"Winning was an amazing moment that we didn't expect because time was ticking away, and we all thought we were going to penalties.  We had our hearts in our mouths as we watched Beth pass to Loulou and watched the ball go into the goal. We all looked at each other and went mental – there were tears!"
When asked what their top tips were for other inspiring players the inspiring group of hockey talent said: "Keep your head up, keep trying, keep training and you can get to where you want to be – but make sure you go in and enjoy every match."
Commenting on taking the champions title, Nick Gandy, Director of Sport said: "This really is such an incredible achievement and an amazing experience for all pupils and staff involved.  The significance of what our girls have achieved at the indoor finals should never be taken for granted.
"As a school we are immensely proud of the continued success we are seeing on the hockey pitch, and we hope the team can take on board the magnitude of their achievement and realise they are in a very small minority of school pupils in any era and at any school who have genuinely been able to say that they are the 'best' in any given year.
"Recognition should also go to Jamie Kingstone and the full coaching team for all their hard work and commitment, and to everyone at Framlingham College, staff, parents and pupils who continue to make these achievements a possibility."
Two of the talents of the U16 team, Anna C and Beth G have also been recognised by England Hockey selectors, inviting both to be part of the full England U16 squad – a significant milestone for a junior hockey player.
The news comes shortly after one of our Year 8 Prep School pupils, Maya C, was also selected to train at one of England Hockey's Performance Centres. Anna and Beth will join several other of our pupils from across the school to train at a similar skill level and will gain their first insight into the world of international training camps and tournaments.
For Anna and Beth, being selected into one of the England Age Group Programmes is a prominent step in their hockey career and will provide a 'best versus best training environment' where they will get to play with top European nations such as Netherlands, Germany, Spain, Ireland and Belgium. Asides from regular and intense training, they will also receive specialist education and training from experienced England Hockey coaches, team managers and physiotherapists.