This term pupils at Framlingham College entertained audiences with powerful theatrical performances, truly demonstrating the dramatic potential of our young aspiring actors.
Shakespeare on the Terrace took place on a stunning summer's evening at the Prep School, perfect for picnics and theatrics.  Audience members were treated to a collection of three performances in which every Year 6 pupil played their part to bring various Shakespearian classics to life.
Each tutor group performed selected scenes from Romeo and Juliet, Macbeth and A Midsummer Night's Dream. The atmosphere was joyous and the acting of a very high standard.  Well done to all involved for all the hard work including Mrs Upton, Mrs Manning and Mrs Long for their efforts and support.
Meanwhile in the HPT at the Senior School, the Around the World in 80 Days production set was being finalised as cast and crew readied themselves to tell the well-known adventure stories of Phileas Fogg.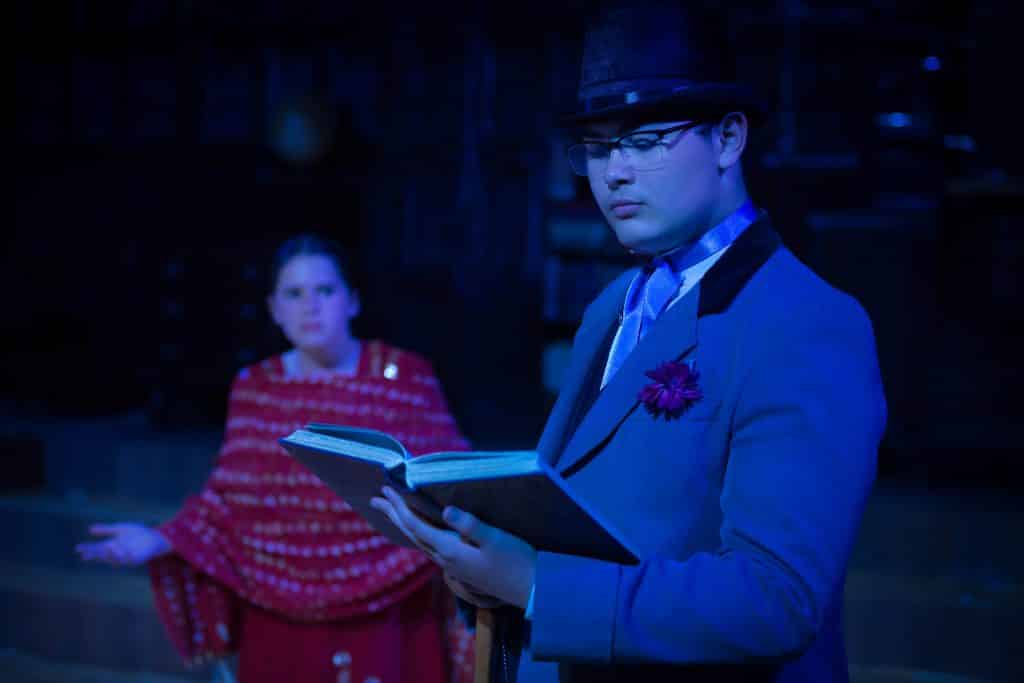 The performances over two nights were a sell-out success, with every member of the cast and crew showing impressive levels of skill and talent to produce such an entertaining show.    In attendance was a representative from NODA (The National Operatic and Dramatic Association), the charity for amateur theatre societies, who published the following review.
This production, a play adaptation of the Jules Verne's classic novel by Laura Eason, was performed by the Year 9 & 10 pupils of the College and forms part of their GCSE drama set text options. Ted Moore, Director of Drama at the College, devised an initiative concept in the round that worked well ensuring pace was maintained during their race against time over the 80 days of the voyage around the world.
He ruefully admitted with a smile on his face that it had been an extremely difficult theatrical challenge to stage. Six of the pupils had taken on specific production roles and made a brilliant contribution. In return it had taught them the skills necessary and given them an insight into what is required in making a successful theatre production.
Design and construction was by Tom Howard with the backdrop of the set being an impressive old wood panelled room complete with book shelves, club armchair and tea table with all the necessary props that created just the right atmosphere. At floor level an incredible apron had been designed.
This area had been pasted with newspaper copy, with sheet upon sheet giving a fascinating acting place and was iconic for the time period involved. Such an incredible amount of work and an amazing achievement. Very well done! This area was constantly being transformed into railway carriages, decking on the boats and in changing locations from London to the deserts of Asia and onto America. This is where the full effect of the teamwork was seen with all the cast working together seamlessly and efficiently to create the desired change in scenes.
The sound by Charlie Harvey and lighting and props by Archie Human were all sympatric to the setting, as were all the period costumes. Mention must also go to Emerald Green for her imaginative elephant construction which carried our travellers across the desert.
Phileas Fogg was played by Oliver Stirling as he portrayed this very determined wealthy Victorian gentleman, who wagers his fortune in a bet to circumnavigate the globe in just eighty days. Oscar Ward played his valet, Passepartout, an eccentric and excitable character with a very believable French accent which he maintained throughout. They were also accompanied by Darcy Green as Mrs Aouda, who they help to escape whilst visiting India. Archie McEwan was Inspector Fix, an iconic, slightly shifty portrayal of a London cockney policeman, always popping up unexpectedly in his efforts to thwart Fogg's journey.
With a cast of about 23, all taking on numerous characters, it was totally evident that this was very much a team effort and Ted and all his cast and crew are to be commended and congratulated in their dedication in producing this exciting high-spirited adventure. You gave us and your audience a thoroughly enjoyable evening.