The famous Framlingham College House spirit never fails to impress during the long-standing and highly-anticipated Senior School House Singing competition. As one of the first major House events of the academic year, pupils must find their voices, confidence, and camaraderie pretty quickly on returning to school in September, with just three weeks of rehearsals being all that stands between them and the top singing spot.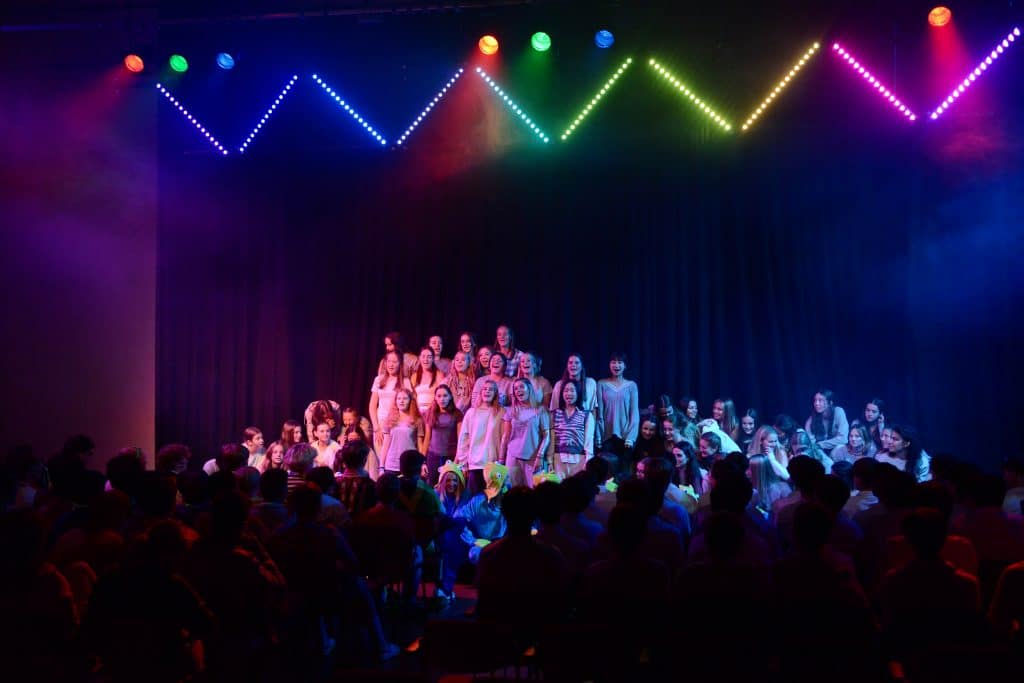 With two opportunities for victory, the full and vivacious House Song and slightly more selective Part Song, this year's competition did not disappoint – with an atmosphere further enhanced by all Houses finally being allowed back in the HPT without a pandemic restriction in sight.
Guest head judge Kati Lines, the new Head of Music at the Prep School, held the key to the Houses who would be celebrating the titles for 2022, but in true Framlingham College style, every performance personified the spirit of a Framlinghamian in all respects.
The evening kicked off with Kerrison's rendition of boy band One Direction's 'Night Changes'. A performance full of classic moves and described as 'a strong bold start with great choreography' by the judges. They set the bar high for all to follow.
Victoria was up next with a shift in tone to an electric performance of Katie Perry's cheeky chart-topping hit 'Last Friday Night'. The Vic girls gave a fun and energetic show of enthusiasm and teamwork which certainly got the audience going.
With a rendition of Coldplay's 'Viva la Vida', next to perform was Stradbroke. They rose to the challenge of replicating a Chris Martin classic with real passion and gusto, which saw the phone lights come out in force, just as you would expect at one of the band's gigs.
Moreau, it's fair to say, pitched it perfectly with their performance of Britney's smash hit 'Baby One More Time'. Making the most of the costume opportunity and capturing the essence of the 90s brilliantly, the song choice was complete with choreography and harmonies to boot.
Not to be outdone on the boy band front, Garrett also went for a One Direction classic 'History' and had the audience clapping and toe tapping in seconds. A performance full of energy and feeling which the House clearly enjoyed.
Pembroke gave a performance dedicated to OF Charlie Simpson as they bashed out Busted's 'Year 3000' with great effect. Costumes included a few alien life forms and a heck of a lot of glitter, which added some extra sparkle to a rendition that already dazzled the audience.
And finally, Rendlesham took to the stage to close the House Song competition. With a unique song choice of 'Shosholoza', a traditional folk song of South Africa and Zimbabwe, the a cappella performance certainly embodied the pride and strength the song seeks to represent, a heart-warming nod to their Housemaster's heritage.
With the room buzzing with excitement and nervous tension, it wasn't long to wait before the results were in…
In third place was Kerrison
In second place Rendlesham
In first place and the winners, Moreau. Who can argue with Britney?
With little time to compose themselves, it wasn't long before the selected group of House participants were back on stage for the Part Song element of the competition.
Performing in reverse order Rendlesham was up first with their vivid performance of The Mamas and The Papas' 'California Dreaming''. A slightly more modern song followed, with Pembroke's wholesome and uplifting version of KT Tunstall's 'Suddenly I See'. Garrett's sturdy song choice was another rousing Coldplay number 'Hymn for the Weekend', performed with conviction and courage.
Moreau took us to a laid back and relaxed place with Corinne Bailey Rae's 'Put Your Records On' full of perfect harmonies, while Stradbroke were suited and booked to deliver a beautiful and captivating version of Tom Odell's 'Another Love'.
Finally, down to the last two performances, where Victoria stole hearts with P!nk's 'Just Give Me A Reason' and Kerrison finished the night off in style with a wonderfully rhythmical a cappella performance of Sean Kingston's 'Beautiful Girls'.
The judges didn't draw the waiting out too long before announcing the top three places as follows:
In third place, Moreau
In second place, Stradbroke
And in first place, Victoria.
A wonderful night, enjoyed by performers and spectators alike. The evening as always gave goose bumps through the displays of passion, pride and House members coming together which really does make Framlingham College a wonderful place to be part of.