The Senior School Autumn Term production saw a number of talented Year 12 and 13 pupils deliver a powerful and moving production of Federico García Lorca's 'Yerma'.  National Operatic and Dramatic Association (NODA) representative, Catherine Dixey, came to watch play and wrote the following review.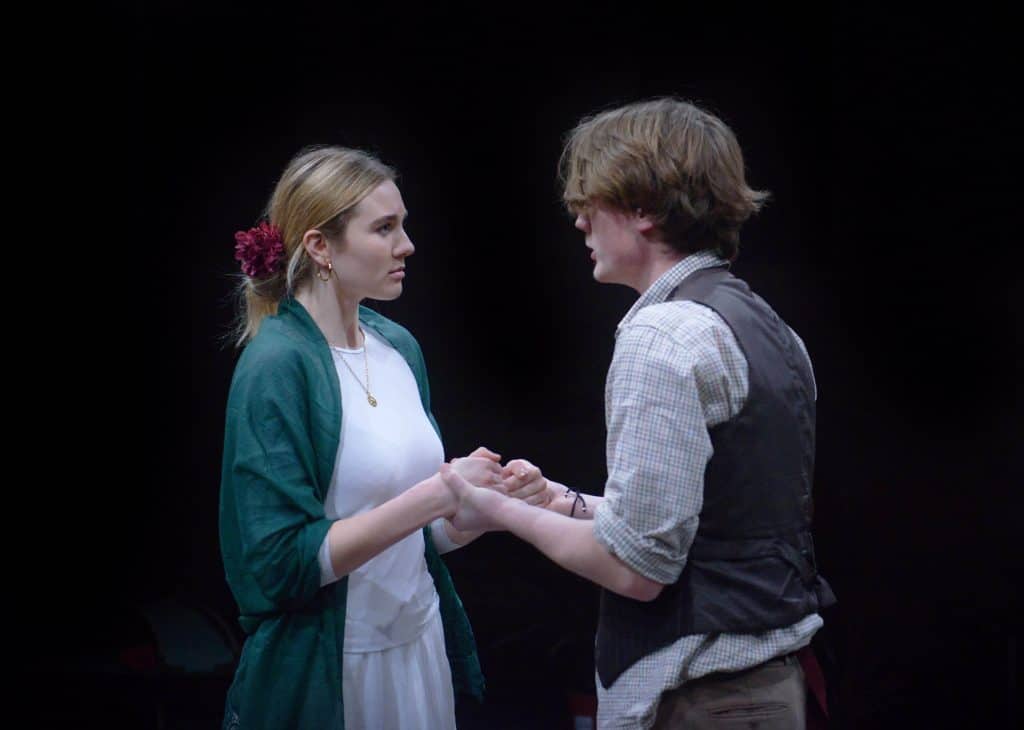 Federico García Lorca wrote Yerma in 1934. It was the second part of his "Rural Trilogy" which he called a "tragic poem". Whilst writing this he struck up a working relationship and indeed a passionate friendship with Dali.  However his whole life seems to have been somewhat tragic. The 3 plays were not considered acceptable in Spanish Catholic Society and it is believed that he was sentenced to death without a trial and shot in 1936 at the age of 38 during the time of the Spanish Civil War.
The play tells the story of a childless woman Yerma, living in rural Spain and her desperate desire and obsession for motherhood. In rural communities families must farm to survive and produce children who will carry on their farms.
Lyla E was excellent in her portrayal of this tormented woman, Yerma, with passion and tenderness. As the years pass her hopes are dashed leading to desperation, anger and jealousy. She confides in her only friend Maria (Bella V) about her situation. Maria has had a baby and Yerma wants to know what else she can do to conceive.
Lyla handled this difficult and complex role with a great maturity. She also demonstrated the tragedy of her situation and gave the audience an appreciation and empathy for all those who have suffered like Yerma, and even to this day the lengths women in her position will go to, in their desperation.
Arlo N played her husband, Juan who was equally passionate in his role. He made you feel he also wanted a child but not with the same degree of desperation from that of his wife. He after all had the farm to run and his flock to tend. He becomes very possessive about his wife, not wanting her to go out of the house and he had his two sister-in-laws (Maja T and Violet C) to watch over her.
Victor (George B) is Juan's old friend, whom Yerma is very fond of and indeed admits she had a girlhood crush on him. However despite all her desires and the suggestions of the other women, Yerma is determined to stay an honorable woman and not cheat on her husband.  The other cast included a group of washerwomen who taunt Yerma in her inability to become a mother.
Yerma also visits some local women with their pagan ideals to see if they could help her. The whole cast should be very proud of their performances. The set was incredible. It had been designed in the round, with tiered seating around all 4 sides. In the centre was a lower area which had been completely covered with pebbles and vegetation which had been planted amongst the stones.
To one side was a slightly raised area with rocks from which water cascaded down and into a narrow gulley running across the stage representing the river, in which the washer-women used to wash their clothes. Such a lot of time and effort had gone into its construction.
There was also a symbolic meaning to the set. It represented the pagan four elements of earth, air, water and later during the play the use of fire. The costumes were very good and in keeping for the period. The lighting was well designed with some additional small spotlights built into the base of the set at ground level.  The production team consisted of both teachers and pupils working together.
This was one of those productions that left you at the end with several unanswered questions and the desire to learn more about the period and the writer Lorca. It is a fascinating play and one which is rarely performed; indeed I think Framlingham were the first to premier it here in Suffolk. It was also an excellent piece for the students to study as part of their curriculum and which also incorporated some Spanish language, along with music and dancing of the period. A complex and thought-provoking piece which these 17 to 19 year old students handled well and with a great maturity.   Well done to Ted Moore and all involved with this production.
A special thanks to the New Wolsey Theatre for prop support and Suffolk Plant Centre for their generous provision of plants to complete the fantastic set.