Last week, our Prep school pupils took a break from usual lesson scheduling to get stuck into a comprehensive Science Week programme, which gave each of them a practical experience of how the science they learn in the classroom relates to the world around them. It also provided a great opportunity to spark our young pupils' imaginations through a huge range of fun activities and outdoor adventures.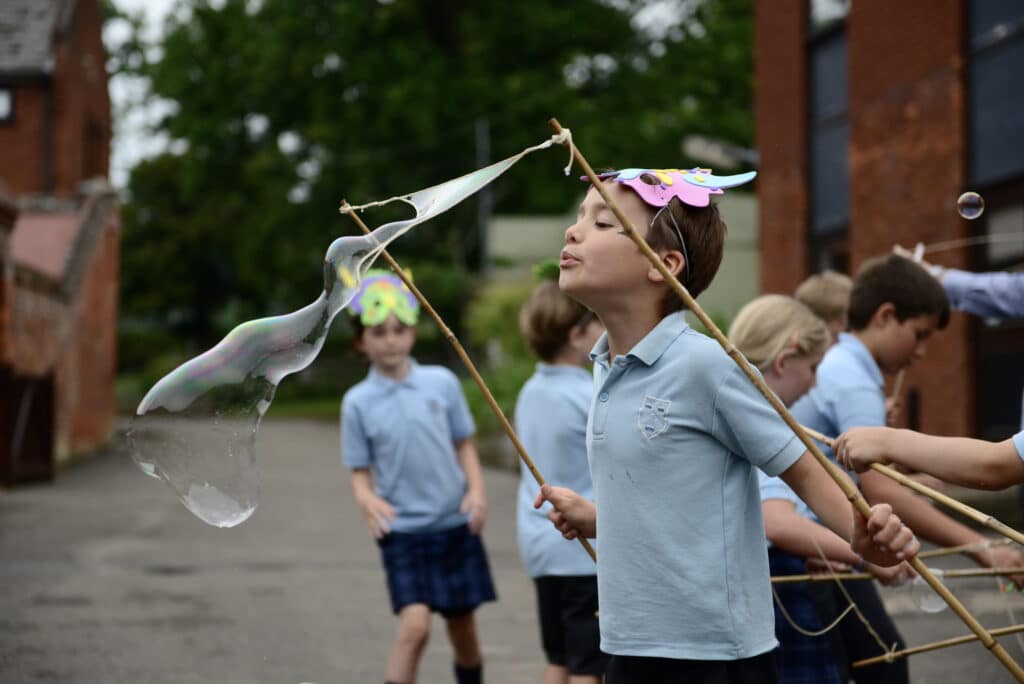 Our Prep school pupils enjoyed a packed schedule of activities last week, with everything from school trips to go sky diving, to creating enormous bubbles to encase their teachers in – the breadth on offer was truly fantastic. Organiser of Science Week, and Head of Science, Sonja Moon, said: "The idea behind Science Week is to raise awareness of science in our everyday lives, spark enthusiasm and celebrate science, as well as technology, engineering, art and maths. It is also to have a lot of fun as it is timetabled for the week after the end of year examinations, and it gives pupils a chance to relax and enjoy time in their year groups."
While each day last week was packed with scientific activities, here is a summary of Science Week activities:
Monday
On Monday, our youngest Prep school pupils got to enjoy 'Bella Bubbles' where they each got to blow giant bubbles, some big enough to encase their teachers in. There was also pond dipping at the Mere, Knex tower building and a science quiz for our older Prep pupils.
Tuesday
Tuesday was the first school trip away for Science Week, which gave our pupils the chance to see rare animals at Banham Zoo. Our Year 3s also went to Roarrr Dinosaur Adventure Park in Norfolk. Our Year 7s were able to learn about sustainability and energy efficiency on Tuesday afternoon.
Wednesday
Wednesday was another action-packed day for our Prep school pupils, as Anglia Water came in to speak to them. Our Year 7s were given the task of building mini wind turbines to see the physics behind these generators first-hand.
Thursday
Thursday was a day of science-related school trips, as our Year 4 pupils got the chance to visit Colchester Zoo, while our Year 5s and Year 6s were able to visit Pensthorpe Nature Reserve in Norfolk, to explore the wildlife and plant life in this protected environment. There was also a trip to local business, Stokes, for Year 7s where there was a chance to explore the grounds, and range of wildlife on site, as well as view the production plant.
Friday
The week concluded with a range of activities for our younger pupils on Friday, including wildlife dipping in the River Deben and 'Clever Camouflage'. Our older year groups at the were able to enjoy outward bounds activities in Essex and I-Fly skydiving at the state-of-the-art facility in Milton Keynes.
Mrs Moon added: "Science Week 2021 was a real success. The positive feedback from pupils and their parents has been excellent with many pupils citing that it has been their best week ever of school. Bella Bubbles was a real highlight as well as the trips out – in particular I-Fly skydiving. Individual pupil favourites will become more evident once we read their Science Week diaries, though 'KitKat the meerkat' and the real-life python which pupils were able to hold on their shoulders were particularly popular!"The week-long celebration of science through such a broad range of activities takes a considerable amount of preparation, and Mrs Moon usually begins her planning process in the summer holidays for the following year. She says that while it's a lot of work to plan a programme like this, she could not do it without staff support, many of whom play integral roles in the organisation of activities. "Staff are allocated activities based on their own strengths and interests. They are provided with all of the necessary materials and support to run a successful activity."
Pupils themselves were unsurprisingly enthusiastic about the week and threw themselves into every activity which was made available to them. And, as Mrs Moon says, "While the purpose of the week is primarily furthering our pupils' understanding of science through practical application, it was also unquestionably brilliant to see so many of our young people simply enjoying themselves and the company of their peers after a year like no other." Mrs Moon adds: "It has been a real success and a real joy to have the pupils get out and about on trips once again."