Written by: Louise North, Principal
Governors, Distinguished Guests, Old Framlinghamians, Pupils, Ladies and Gentlemen.  Welcome. It is an honour to be with you today and to be part of this gathering and celebration, the first for three years. There's a place for Zoom, Teams, and remote working and learning, as we all now accept or appreciate, but 'remote' is still remote. As people we need to feel the warmth of proximity, personal contact, smiles and spontaneity – and few places, I imagine, have the warmth of this tent right now.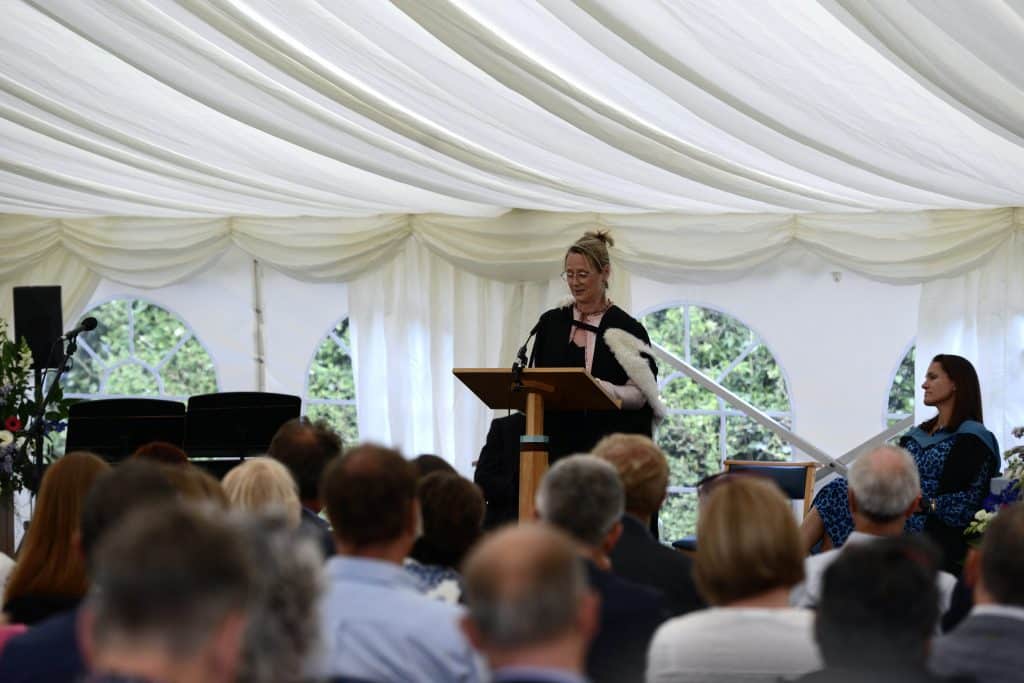 It has not been an easy three years. As society has grappled with unprecedented challenges, you would be forgiven if your faith in the future has, at times, been shaken. Well, today we are here to dispel any doubts, and to share with you through the story of our year the ingenuity, talent and dedication of this fine generation of young people. They are not only their own future, but the future for all of us. I think we are in good hands.
Today we are trying to do something a little different – a fuller, more immersive experience for you. A Speech day with speeches, but not about speeches, if that makes sense. No, today is emphatically and gloriously about the pupils. They are the reason why any of us are here. They are at the heart of all we do. Not just today, but every day.
I hope you found the various exhibits and presentations lively and insightful. In particular, I hope you gained a compelling sense of the vibrant learning culture we are building at Framlingham. As educators it is our responsibility to present experiences that stimulate and challenge; that nurture the growth mindset that enables each child to flourish.
Be confident. Be curious, we say. Have a hunger to learn and be ambitious. As Albert Einstein said, "The important thing is not to stop questioning. Curiosity has its own reason for existence."
That culture, and the academic rigour that flows from it, is of paramount importance to us.  And learning should be fun, too. As we have seen this afternoon, English skills may be honed in a bustling newsroom, an understanding of Physics deepened with Scalextric, and computer programming can culminate in a robot race.
Intellectual curiosity has presented itself in all sorts of ways this year. Sixth Form subject ambassadors have inspired younger pupils with their love for their subjects.
We have excelled in competitions such as the Maths Challenge, where the performance of Cally Craig and Jack Waring in particular stood out.
We achieved a distinction and were finalists of the Perse Coding Team Challenge from a field of approximately 5000 entrants.
We were one of 95 schools from 46 countries to compete in the global schools' Business Olympics. Our team – Robin Waddington, Ben Vernon and Matt Addison – came third. In the world. To give you a sense of the reach of this competition, the winners were from the Philippines.
The spirit of enquiry is strong. The Sixth Form academic hub, led by our Graduate Scholar, has probed topics as varied as The Philosophy of Love, The Troubles in Northern Ireland, and Gendered barriers to learning.
We have enjoyed talks on Mars Science and Engineering, Criminology, Old and Middle English, and Social Psychology, to name just a few.
We have hosted workshops led by specialists in their fields, recent highlights including The National Youth Theatre, composer and jazz musician Jeffrey Wright, and Suffolk artist and ceramicist Don Hawkley.
Trips to the V&A, Tate Britain and Fitzwilliam Museum; to Haileybury for the Model United Nations (where we represented Haiti, Gabon and Sweden) and Bletchley Park have enriched our pupils cultural and historical perspectives.
When the learning environment, and thirst for ambition is right, the right outcomes follow.
We aspire to nurture young men and women of commitment, who understand that the more you put in, the more you get out. We have seen numerous examples this year.
BimBim Jimoh-Ibrahim won the National Final of the Poetry by Heart competition.
Musicians Fran Henriques and Emily Williams have secured places at the Leeds and Trinity Laban conservatoires, respectively.
Daisy Ford has been accepted on a full scholarship to Stanford University. She was also selected for the England U18 hockey squad and the GB Hockey Elite Development Programme, where she joined Georgie Gardens.
Georgie went on to represent England in the U21 Women's Hockey World Cup in South Africa, where the team won the bronze medal.
Anna Cogdell and Beth Gardens played for England in the Five Nations U18 Hockey tournament in Holland.
Poppy Beales has been offered a full scholarship to Yale.
Rebecca Yardy heads to Cambridge to study Medicine.
Finlay Bloore, Katherine Williams and Charlie Alabaster have sung with the esteemed cathedral choir of St Mary-le-Tower in Ipswich.
Artists Grace Nicholls and Harry Budd were amongst the winners of the Anna Airy Award, with Grace also being invited to exhibit her painting in an exhibition of 70 portraits to celebrate the Queen's Platinum Jubilee.
None of this excellence is achieved without hours of unseen study or practice and personal sacrifice.
For all the shared endeavour we have presented today, I hope that the individuality of our pupils has also shone through.
In the late Peter Ustinov's school report, it said that "He shows great originality, which must be curbed at all cost."
Not at Framlingham.
We rather like originality. Be yourself. Be different. Be unafraid. Be agile and open-minded in your thinking, ask pertinent questions and seek constructive change. Stand up for what you believe. Follow the path that is right for you. "To thine own self be true," as Polonius famously advised his son in Hamlet.
Individuality is certainly a defining characteristic of this year's leavers, each of whom is comfortable with the person they have become and confident about the pathway they have chosen to pursue. As you would expect, those pathways are diverse: pending results, we have leavers off to study
Medicine; Aerospace Engineering; War, Peace and International Relations; Fashion Photography; Microbiology; Product Design; Law; Art History; and Ethical Hacking – yes, Ethical Hacking. That's just a snapshot of the many varied examples I could give you.
Individuality also finds expression through the Extended Project Qualification, which allows a wonderful freedom for self-motivated study. One reason why we, and universities, like them. Topics chosen this year include political assassinations, the health of the gut, and the filmmaking techniques of the director David Fincher.
These qualifications demand passion for an idea, the creativity to turn it into something tangible, and the singlemindedness to complete it.
Passion, creativity and singlemindedness are qualities we recognise in entrepreneurs, but success is just as much the product of initiative, drive, teamwork, and perseverance – values we seek to inculcate every day.
The Framlingham College Entrepreneurial Hub has added another, invaluable dimension for our budding businessmen and women. During the year we hosted several Business Breakfasts where business owners, both parents and OFs, joined our pupils to talk informally about the businesses they run, imparting first-hand knowledge and practical advice. We are also developing the idea of a human lending library, where our pupils may "borrow" an entrepreneur to explore how they may progress their idea.
Art needs no justification or purpose, and wasn't the exhibition today superb? The freeing of creativity stimulated by our excellent Art and Design & Technology Departments sometimes merges into other disciplines.
For example, Jack Gribbon and Lily Mullineaux used their A-level Design & Technology products as the centre of their BTEC Business projects, pitching their ideas to entrepreneurs who then quizzed them on their business' viability at a recent Dragon's Den event.
This is perhaps what you would expect from one of the few schools to have earned the prestigious Gold Artsmark, an accreditation bestowed upon us by the Arts Council in recognition for the way in which the Arts are woven through our curriculum and teaching.
This afternoon, courtesy of the 'buskers', BTEC band, Emily Williams and Cappella Lumina, we enjoy just a taste of Music at Framlingham. In its breadth and variety, it is unusual; in its quality, it is exceptional.
Lucy Bloore's repertoire also has a thrilling capacity to surprise, such as the harmony with tuned wine glasses at the Summer Concert in St. Michael's. Only two days ago, the Front rebounded to a joyous explosion of performance, the Music ReView.
Numerous other events have peppered the year – notably the Choir Tour to Edinburgh, but also BTEC live, termly concerts, Chapel soloists, scholars' concerts, the wonderful Motown Cabaret nights, and soloists and choir supporting OF Christina Johnson at her jubilee Proms in the Wood.
These events have run the musical spectrum from the ukulele band and contemporary singer-songwriters to instrumental virtuosity and operatic arias.
But our Music is not only elite, it is inclusive, playing a part in everyone's life here, even for those of us whose voices contribute more volume than tune. Chapel singing, for instance, fosters a love not only for singing, but also for the ritual of coming together as a community in an uplifting spirit of unity, mutual support and fun.
If you missed Joseph and the Amazing Technicolour Dreamcoat in December, I can attest that the performance of 'Canaan Days' we have just enjoyed was entirely typical of the wit and panache of this inventive production. How those involved thrilled and delighted us at the end of a long, tiring term. The 1980s setting gave full vent to nostalgia for those of us of a certain age
Pac-men,
leg warmers,
Shakin' Stevens,
a Sinclair C5,
and mobile phones the size of house bricks.
Laurence Myers-Allen and Emily Williams excelled in the leading roles, but again, in the spirit of participation, every year group was represented whether on or backstage. No-one left without a smile on their face.
Last week, we saw Years 9&10 dash Round the World in 80 Days in the company of Oliver Stirling's brilliant Phileas Fogg, sweeping the audience along on a colourful, witty and inventive journey. The applause must still be ringing in their ears.
We seek to empower our young people to be responsible citizens, and to imbue them with a genuine desire to contribute to society and care for others. Fundraising for charity, volunteering in the community, participating in Phab Club, all bring into sharper focus the need to celebrate difference and to respect one another for who we are.
The FLOW programme, wellbeing ambassadors, House and tutoring structure, and visiting speakers all contribute to our priority of good mental health. Our wellbeing ambassadors have taken the lead, promoting wellbeing, diversity and inclusion through assemblies, podcasts, and activities as varied as early morning yoga and dancing at breaktime. They have actively encouraged their peers to talk about their own mental health, to embrace difference within the community, and to be more inclusive. Diversity and inclusion are not buzz words here, they actually mean something real.
Like any forward-thinking organisation, we have a sharp eye on sustainability and the environment. Our recent carbon footprint audit will lead to a long-term sustainability plan and a move, I am confident, to a greater use of renewable power. Of course, young people across the world are in the vanguard of this movement.
Our Year 9 environmentalists are working with the town council to help reduce our environmental impact; our food waste campaigner, Audrey Ng, is encouraging us to think more about what we put on our plate.
One morning Ollie Ford in Year 9 asked me, "Have you thought about bees, Mrs North?" In truth, I hadn't, but before I knew it, we were looking at three hives and many happy bees producing tasty honey, some samples of which are available for you to take away today.
One of the most significant developments of the year came in partnership with the Society of Old Framlinghamians, with the launch of our Sixth Form Bursary Campaign. This was a public statement of our absolute commitment to widening access to a Framlingham College education.
Thanks to the generosity of our donors and the SOF, I am delighted to say that in September we look forward to welcoming the first two full bursary recipients supported by this campaign. A start that I hope will inspire others to support the campaign as it moves forward. Determined people working together can achieve so much. 
Thinking of which, picture the scene: rain-lashed backpacks trudging through a lonely forest. Heads down. Just another day on a DofE expedition. But in that moment a cry of encouragement, a shared joke, an offer of help or advice, lifts the spirit and on they go.
That's teamwork, and it is crucial to the success of this school. We see it in House spirit, in the CCF, bands and choirs, cast and crews, prefects. All are teams built on togetherness, mutual support and shared responsibility. And, of course, we see teamwork in sport.
The outstanding sporting team of this year was the Girls Under-16 Indoor Hockey Team. To secure the national championship with a goal in the last second of the final, against Repton, at Repton, was a stunning achievement.
It truly was a Hollywood ending. Founded on skill? Yes. Fitness? Yes. Excellent coaching? Yes. But also, on a collective refusal to be overawed by the occasion and the tenacity to keep going.
There are lessons for us all in that. There are very few who can say they are a national champion at anything, but these girls are, and very worthy of that distinction.
But I am proud whether we win or we don't, for we always compete in the right spirit. When other teams fall apart or their sportsmanship slips, when other coaches fail to lead by example, I know that we will always be disciplined, courteous and respectful, setting an example for others to follow.
Sport is an exploration of will and character, sometimes in adversity, and no team better exemplified that this year than the Rugby 1st XV. They had a challenging start to the season, as they will freely admit.
A team meeting was called and resolve was found. The boys responded with commitment and resilience, forging an amazing spirit and securing wins against Bishop's Stortford and The Perse. Felsted were taken to the wire, and in their best performance of the season, they lost by the narrowest of margins to Ipswich School in the National Vase.
No matter, theirs's was a journey upon which they learnt much about themselves, and about teamwork. In so doing they earned the respect of each other, their opponents and their peers.
Life will surprise, delight, confuse and disappoint us. But I am confident that we equip Framlinghamians with the skills they need to face uncertainty, adapt to new situations, and embrace opportunity.
A year ago, Ken Mayhew OF passed away, aged 104. Ken epitomised the spirit of this place, holding the school in great affection and crediting it as a formative influence on his life. In 1946, he was awarded the Military William Order for "committing excellent acts of bravery, leadership and loyalty and for displaying an extraordinary sense of duty and great perseverance". He was a modest, dignified and courageous man. The values that inspired Ken when he arrived here in 1929 and guided him through his life, are I believe, those that inspire and guide Framlinghamians still.
We are united by a common purpose. We are humble and kind. We respect difference. We choose courage over comfort. We aspire, strive, and set our bar high; we persevere; for us, integrity matters, which is why we choose to do the right thing even when no one is watching.
As we say goodbye to the Leavers today, they need to know that a small part of their spirit and love for this school stays with us when they leave. Staff will think of you from time-to-time. Pupils will miss you – they will laugh fondly in recollection of some joke or escapade, remember a supportive word or an inspired thought. Those in younger years will aspire to be like you when they reach the heady heights of the Upper Sixth. Just as this school has shaped who you are, so you will play a part in shaping those you leave behind. May that Framlinghamian spirit burn bright within you, whether near or far. Forever.
Today we bid farewell to a number of our staff, each of whom has made a notable contribution to the school. Kathy Gardens retires after 27 years of dedication to the Sports Department, teaching PE and dispensing expert coaching to generations of Framlinghamians. I am sure we will continue to see her on the side lines as parent and supporter. Geraldine Clarke's time at Framlingham has been defined by an irrepressible positivity and energy, whether as a teacher of English, Psychology and History, or as Head of Years 10&11.
Jon Slay will be remembered with affection as a Housemaster of Garrett, hockey coach, DofE expeditioner and teacher of Geography – a schoolmaster of the old school, which is a compliment. Mary Williamson, Housemistress of Victoria, led her house with passion, wit and sensitivity. Her peals of laughter will be missed not just there and in the Biology Department, but across the school.
In his two years here, Alex Boyd-Williams, Head of Sixth Form, has worked assiduously to make our Sixth Form a more individual, aspirational and purposeful experience, a project that I know Katy Williams will take forward with assurance next year. Louise Van Der Linde has been an excellent classroom practitioner, and she will be missed from the Maths department as she progresses to the next step in her career. Ivan Lopez, Spanish Assistant, brought to us an infectious enthusiasm for his language and culture.
Laurence Denvir, Head of Rugby and teacher of French, steps away from teaching after too short a time with us. Sam Rowe, hockey coach, left us at the end of last term to fulfil a commitment to coach the Wales team at this summer's Commonwealth Games. Harvey Finbow OF has had perhaps the longest gap year placement in history. We are glad he did – he has added significant value to the coaching of rugby and cricket, in particular.
Our year-long Graduate Scholar programme began in September with Durham Languages graduate Lauren Blake. Lauren has nurtured a thoughtful culture of research in the library and has inspired our pupils to read more and more widely. Next year, we will welcome Oxford History graduate, Tom Laskowski.
To all of the above – thank you for your service to the College and for all you have done for our pupils. It has been appreciated and will be remembered. We wish you every success and happiness along the road ahead.
There is, of course, one other leaver today. Susan Wessels arrived as a fresh-faced Senior Deputy Head in 2011, and leaves today, still fresh-faced. Which is remarkable, when you consider how demanding a role Senior Deputy is, being the depository for all manner of organisational quandaries, disciplinary matters, complaints and conflicts. Formidable yet compassionate, purposeful yet with a ready wit; and above all else, kind, Susan's straightforward good sense has invariably cut through to the nub of an issue. She is hugely respected by colleagues, parents, and pupils alike. Susan, it has been an absolute pleasure working with you. You leave a powerful legacy, many friends and happy memories. Thank you for all you have done for Framlingham and I am delighted that you will be presenting the prizes today. We wish you and your family great happiness and fulfilment at Marlborough.
In the spring of 2020 we published Vision 2025, a blueprint for how we saw the school moving forward. Two years on, I am confident that we have made significant progress towards fulfilling that vision, despite the choppy waters through which we have sometimes had to sail. We are a more ambitious, agile and efficient organisation. We have a clearer sense of who we are, what we do, and why we are special. We are proud of that, and unafraid to say so. More people are discovering Framlingham. They are excited by our vision and want to be a part of it.
But most importantly, we are more pupil-focused and more alert to the individual than ever before.
There's more to do, of course, there always is.
And lastly, some thank yous.
Only when you have the privilege of seeing what they do at first hand, do you fully appreciate the commitment and diligence required of a school governor. We are lucky to have the governors we do and I am grateful to each of them; their role is time-consuming, often thankless and usually unseen, but essential. My thanks go to them all for their wisdom and support, and in particular to their Chair, Charles Packshaw.
Without caterers, technicians, grounds staff, medical staff, domestic staff, transport staff, the maintenance team, finance team, operations team, marketing and admissions team, HR department and administrators, none of what we have celebrated today would be possible. My sincere gratitude goes to all of the support staff for your dedication and loyalty. Your contribution is invaluable.
A parent, whose name I won't disclose, asked me in my first week here, "When will all your teachers be excellent?" Today, I answer confidently – our teachers excel. To our teaching staff, thank you for your deep commitment to your craft as educators and for your unwavering support for the pupils. I know that you are there for them, whether academically or pastorally, and that makes all the difference.
Parents, I thank you for entrusting your children to us once again. Schooling is perhaps the biggest decision we make as parents. It may well be the most expensive. Be assured, I do not take that commitment for granted. I understand that it is a bond which we must continually earn and renew. Your expectations are justifiably high; I trust we are not just meeting them, but exceeding them. If we weren't, I know you would tell me!
We ask our prefects to lead the school by example and they have been unstinting in doing just that this year. They have been superb role models for their peers. Daisy Ford and Hugh Clarke have been an outstanding Head Girl/Head Boy team, the very definition of good humour and unwavering commitment. Respect has been earned and never assumed. You will be a hard act to follow. Thank you.
And to the pupils as a whole. I hope you recognise yourself and all that you have achieved in what you have seen and heard today. Thank you for being you. Go off. Rest, recuperate. You'll need to – because in September, we go again. The year ahead promises to be both inspiring and exhilarating, and I can't wait!