On Thursday 6th October 2022, National Poetry Day, the Prep School held their Poetry by Heart final aimed to inspire and encourage pupils of all ages to embrace and embody poetry, whilst providing an opportunity to perform in front of an audience.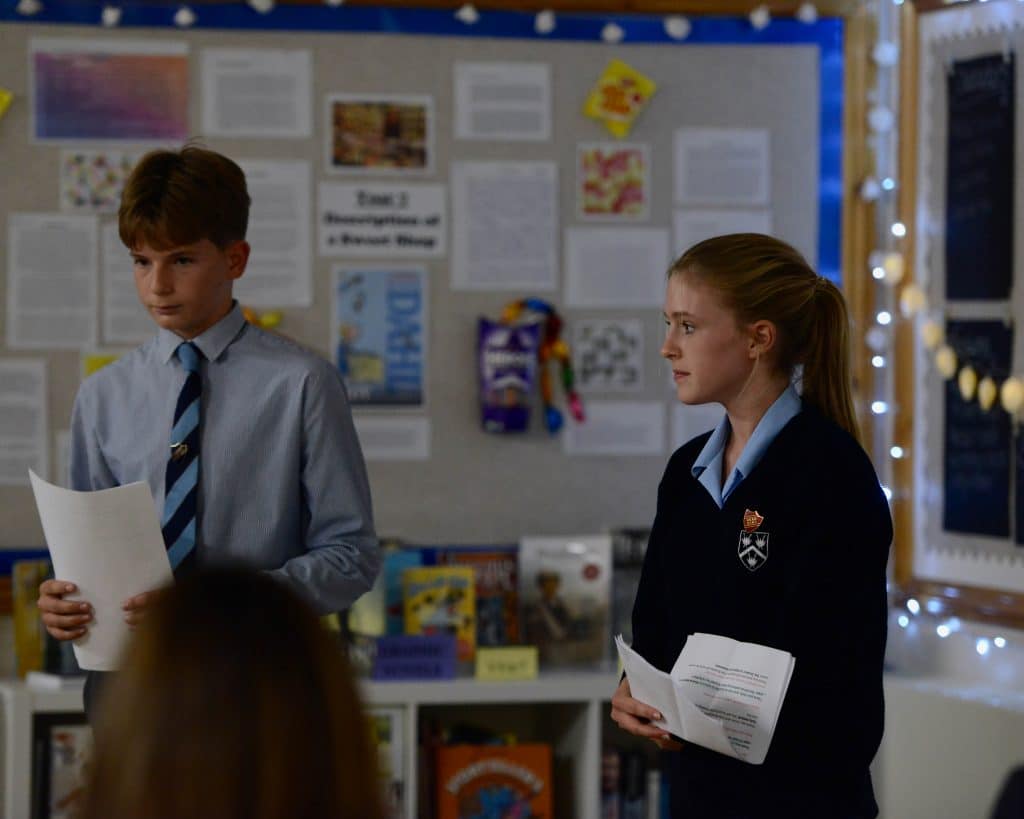 Guided by event hosts Luke B and Imogen P-H, eleven talented pupils from across Year 5 to 8 took part in the hugely popular school event, having impressed their classmates in early competition rounds to reach the final stage of the competition.
No mean feat for any age, each of them had to memorise and read two poems in front of an audience of their peers and parents. The judging panel of Mrs Charles-Saker and Mr Hastings were tasked with the difficult task of deciding who would be crowned this year's champions.
Before they began the judges made it clear what they were looking for: diction, articulation projection and a real sense of owning and embodying the poem through their individual interpretations.
From the Lower Prep, Amelia B, Emily McC, Holly B and Florence M all performed their individually chosen pieces before reciting the common poem 'My Shadow' by Robert Louis Stevenson.
Amelia B chose 'Dancing' by Yang Kuei-Fei and was praised for her ability to navigate some quite tricky vocabulary and for the exquisite expression she managed to put into both performances.
Emily McC recited 'The Hamster Speaks' by Rachel Rooney with the judges commenting on how articulate, clear and witty she had made her performance.
Holly B gave an extremely expressive performance of 'The First Tree' by Lenore Hetrick, which excused confidence and an enjoyment that captivated the room.
Florence M was the final Lower Prep finalist, whose delivery of 'Nobody Knows' by J A McManus was complimented on her pace, pitch and modulation which allowed the audience to understand and engage with her performance.
Despite the high standard there can only be one winner and this year it was decided that Florence M would take the Lower Prep Poetry By Heart Champion title for the second year running, meaning she is definitely the one to beat next year.
For the Upper Prep finalists, each performed their individually chosen poem alongside 'The Tyger' by William Blake.
Vera SR chose to perform 'How to Die' by Siegfried Sassoon and did so with great modulation and dramatic characterisation.
Josete RS hand-picked 'Ants' by Ted Hughes and delivered both his recitations with energy, expression and wonderful use of rhyme and fluency.
Tilda N's individual poem was 'The Horse' by Laura Allen, a wonderful piece full of pace and pitch which was recounted beautifully.
Felix N delivered a mature performance of 'Remains' by Simon Armitage, one from the GCSE poetry anthology. The judges felt the poem was handled sensitively and displayed a real understanding of the content.
Lexi G gave an honest and impressive interpretation of 'If Tomorrow Never Comes' by Norma Marek which showed real connection to the poet's intentions with commended diction and annunciation.
Jack B's tongue twister 'Duck's Ditty' by Kenneth Grahame provoked smiles and laughter from the room and was expertly navigated with great fluency and control.
And the final competitor of the evening, Bertie B chose to show his skills with a rendition of 'Horrible Songs' by Ted Hughes which he presented beautifully, captivating the room with every word and splendid dramatic effect.
After deliberation and having to make some hard judgement calls, the Upper Prep Poetry by Heart trophy was awarded to Felix N, for his ability to provide contrast between his two pieces and a demonstration of versatility.
Lucy Manning, Head of English at the Prep School, said: "I am so immensely proud of all our finalists, they have done a brilliant job. They really showed how much enjoyment they got from learning their poems, equally demonstrating that every single performance of a poem can be made into its own poem with a unique voice to it. Learning a poem by heart is something you can keep with you forever and is a real gift."
The same day also saw the official launch of the National Poetry by Heart competition. As a National Poetry by Heart 2022 Champion, our own Year 12 Bim Bim JI was invited to attend the launch, where she recited one of the poems she learned for last year's competition in front of an audience of school children, poets and actors at the Sam Wanamaker Theatre. She was also then a guest at The Globe theatre and watched a matinee of the latest production of 'The Tempest'. A fantastic day and a great reward for Bim Bim and her talents.  You can hear from Bim Bim about Poetry by Heart in this video.