Our school Prefects have just been selected following a rigorous application process, which directly mirrors the process of applying for a job.
The position of Prefect is open to all of our Year 12 pupils so that every member gets the chance to put forward their case as to why they deserve to hold the prestigious leadership position and argue the case for selection in a detailed application process and subsequent interview. We spoke to Senior Deputy Head, Miss Wessels, about how Prefects were chosen for 2021/2022 and how the process itself helps give pupils vital real-world experience which they will be able to take with them throughout their careers.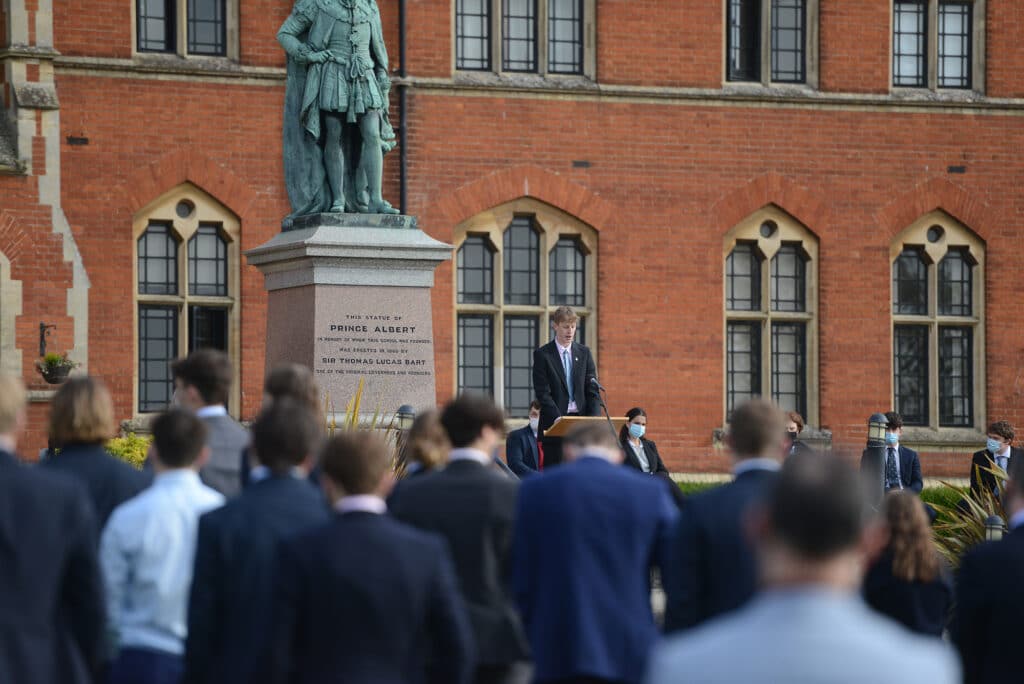 Miss Wessels said: "The first stage of the application process for pupils is to make a short video of themselves explaining why they should be considered for one of our Prefect positions. These videos cannot be longer than 2 minutes so they have to be concise when raising their points."
This year, the evaluation panel, which is made up of senior leaders at the school, received 59 applications from our Year 12s. Of that number, 39 were invited to the first round of interviews, where they were asked to speak to a member of the Senior Leadership Team, before a shortlist of 24 candidates were invited to a full panel interview with Miss Wessels, Mrs North, Mr Boyd-Williams and Mr Lloyd.
Miss Wessels adds: "It was a formal conversational interview, and each candidate was asked the same questions so that we could accurately compare responses. Through this process, we are giving pupils an opportunity to go through a typical job application process. For most of our pupils, this will be the first interview they have ever had."
College Prefects have a significant role to play in the running of our school, with regular weekly Prefect meetings taking place to discuss key issues affecting pupils and devising policies to improve pupils' experience at Framlingham College. To ensure that the whole school is represented, Miss Wessels says that the panel select a broad range of personalities. She says: "We work really hard on the collective Prefect team. We try to make sure our Prefect positions are not just filled with our academic or sports superstars. It's important that the whole school is represented, with a diverse range of strengths and weaknesses."
Another important part of this process is helping pupils to learn to deal with disappointment as the majority of applications are not accepted for the limited number of Prefect positions. This helps to build resilience in our pupils and therefore better prepare them for life after Framlingham College.
Miss Wessels is keen to stress the weight of responsibility which comes with holding a Prefect's position as you are stepping into a leadership role which can have a lasting impact on life at Framlingham College. She adds: "For the first few weeks, after announcing our Prefects, we do leadership training with them and get them to set out a vision for the year. Our Prefects can genuinely have a significant impact on the running of the school if they want to; we try to encourage them to get involved in a meaningful way and understand the responsibility of their position."
Congratulations to our chosen Prefects for the 2021/2022 academic year. They are:
| | |
| --- | --- |
| Head Boy | Hugh Clarke |
| Head Girl | Daisy Ford |
|   | |
| Co-Curricular | Georgina Gardens |
| Events | Freya Faulkner |
| Global Awareness | Charlotte Rowland |
| Learning | Rebeccca Yardy |
| Wellbeing & Inclusion | Grace Robertson |
| Year 9 | Matilda Galloway |
| Year 10 | Jacobi Bishopp |
| Year 11 | Matthew Nesling |
|   | |
| Head of Garrett | Russell Colman |
| Head of Kerrison | Harry Budd |
| Head of Moreau | Olivia Buchanan |
| Head of Rendlesham | Maximus Thompson |
| Head of Stradbroke | Joseph Cockle |
| Head of Victoria | Francisca Dos Santos Henriques |