Framlingham College Sixth Form pupils now have the opportunity to further enhance their spirt of enquiry and expand their research, presentation and debating skills through the launch of a new Sixth Form Academic Hub.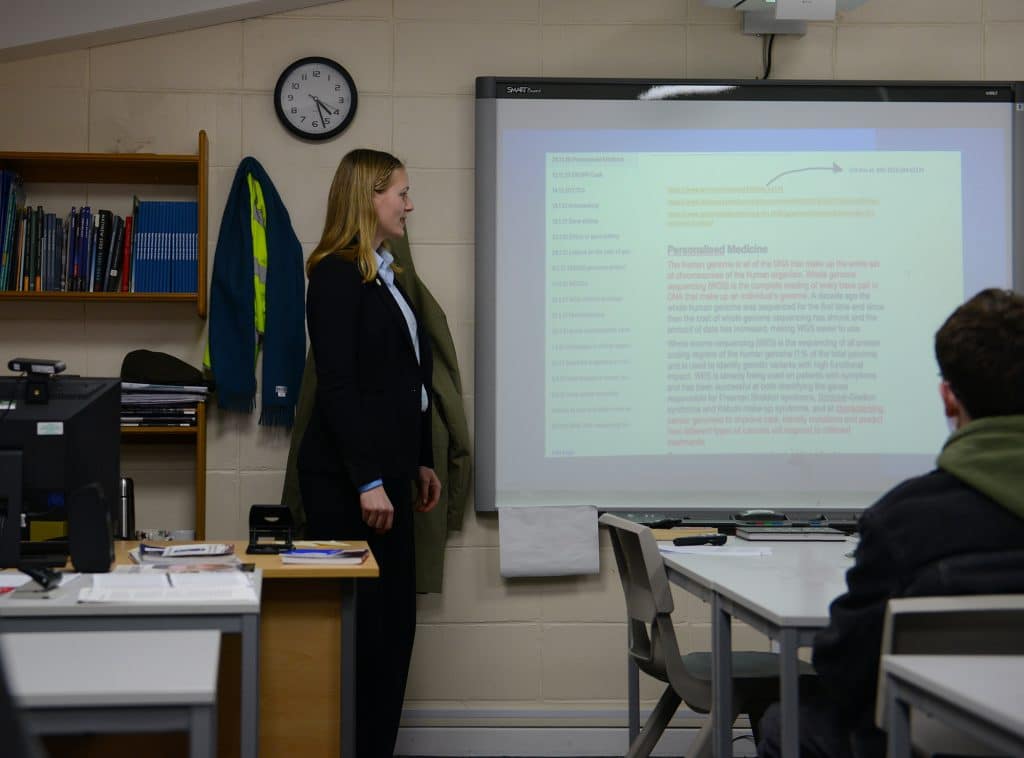 The weekly hubs will take the form of a university-style seminar with both formal presentations on subjects of personal or academic interest to pupils, plus open group discussion on a whole manner of topics from Medicine to Art History.
Rebecca Y, Year 13, was the first of the hub's subject presenters to deliver a thought-provoking presentation on her EPQ topic, the Role of Genome-Sequencing in the Management of Cancer, before leading a topical debate around the ethics of Medicine referencing the recent controversy surrounding Novak Djokovic's stance on Covid-19 vaccinations – a subject which sparked much interest amongst her fellow hub participants.
As a pupil instrumental in the development of the project, Rebecca, the Senior School's Prefect For Learning, talked about the motivations to drive the Sixth Form Academic Hub to fruition saying: "We wanted to create an opportunity that was engaging and appealed to a wide range of people, but where attendance was optional and not forced. The Academic Hub offers something different to other lessons and encourages thinking and discussion to extend individual's subject learning."
Lauren Blake, Framlingham College's Graduate Scholar, has also been a huge supporting force in getting the Academic Hub up and running. Commenting on the aims of its formation, she said: "Not only do we want the Academic Hub to be a place for interesting and thought-provoking discussion and debate, but also to provide a real opportunity for pupils to experience university 'seminar' style learning that allows for practice in both their presentation skills but also how to develop their sense of debate and articulate their opinion.
"It is an entirely optional activity, and we fully expect pupils to dip in and out according to topics that may be of interest to them, but what we hope it enables for all pupils is an opportunity to encourage and enliven their research habits and interests and give them a real insight into university teaching and learning."