This term members of the Senior School Responsible Schools Project (RSP), launched a new sustainability campaign, enabling over 400 trees to be planted by College pupils.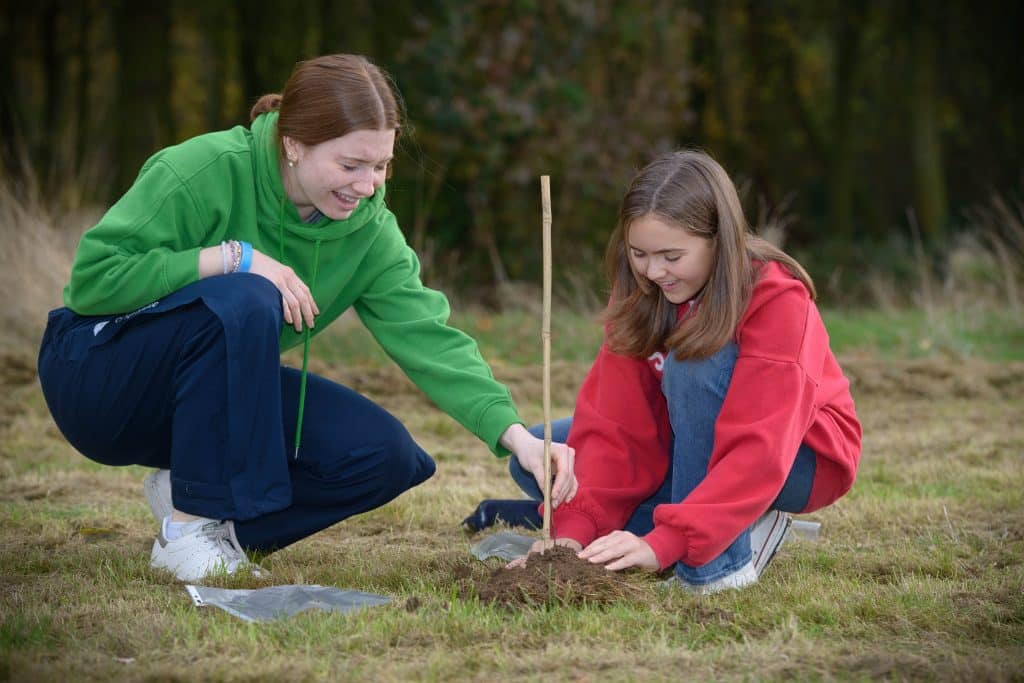 Over the November exeat weekend, every Framlingham College Senior School pupil was given the opportunity to either take home and plant their own tree, or help to populate a new College copse.
On Sunday 13 November, our boarding community got their hands dirty planting around 200 trees in an area of land at the back of the Senior School, to produce the new King's Wood.  The name, in honour of King Charles III's unwavering commitment to environmental issues, will increase biodiversity, absorb carbon dioxide and will be a living, growing, reminder of our pupils' commitment to the College's sustainability agenda.
The 400 plus trees were provided to the College from the Woodland Trust, as part of their free trees for schools and communities initiative. All trees received were native British species including Silver Birch, Rowan, Hawthorn, Wild Cherry, Dogwood and Hazel.
Sustainability Prefect Maja T was one of the RSP members driving the project. She said: "We all know we need to do more to reduce the impact of the climate crisis.  Our aim is to draw attention and focus to the importance and impact of planting trees and for pupils to see how easy it is to do – and perhaps encourage them to plant more."
Ed Newman, Head of Geography said: "We have made huge progress over the last twelve months to embrace a more pro-active approach to environmental responsibility, through both reducing the College's carbon footprint and developing pupils' awareness of the environmental threats to their world.
"During October the 27th Conference of the Parties to the United Nations' Framework Convention on Climate Change, COP27, took place in Egypt. The aim of COP27 was to deliver action on an array of issues critical to tackling the climate emergency. This included the launch of the Forests and Climate Leaders' Partnership. This partnership will help to deliver the commitment made at COP26 by over 140 world leaders, to halt and reverse forest loss.
"We launched this tree planting project because we want to enable members of our community to play a part in replacing forests that have been lost.  It is these types of initiatives which demonstrate how collectively, through small actions, we can all make a difference to the future of the planet."
The Prep School eco drive also continued with equitable enthusiasm from pupils, staff and parents this term.  The Eco Committee together with the FOF (the Friends of Framlingham College Prep School parent group) host a second-hand uniform sale and raised £200, which will be added to further FOF fundraising efforts to purchase a school composter.
The Prep School Eco Committee has representatives from Reception up to Year 8 (now totalling over 20 pupils) working collectively to drive forward sustainability projects across the school.  In a bid to further raise pupils' awareness of sustainability issues, this term committee members also launched a competition for pupils to decorate their form rooms with recycled Christmas decorations.