On a day that provides focused opportunity for women across the world to come together, applaud one another and rally for equal treatment and representation, we celebrate the aptitude, aspiration and spirit of our young women and girls at Framlingham College.
To commemorate the social, political and economic achievements of women today, in our dedicated International Women's Day feature we shine a light on the depth and breadth of outstanding female accomplishments at Framlingham College.
Read on to discover the future prospects of some of our Year 13 girls, and to view a gallery of our up and coming pupils all with hugely exciting futures ahead of them.
Rebecca Y, received a conditional offer to read Medicine at Downing College, Cambridge.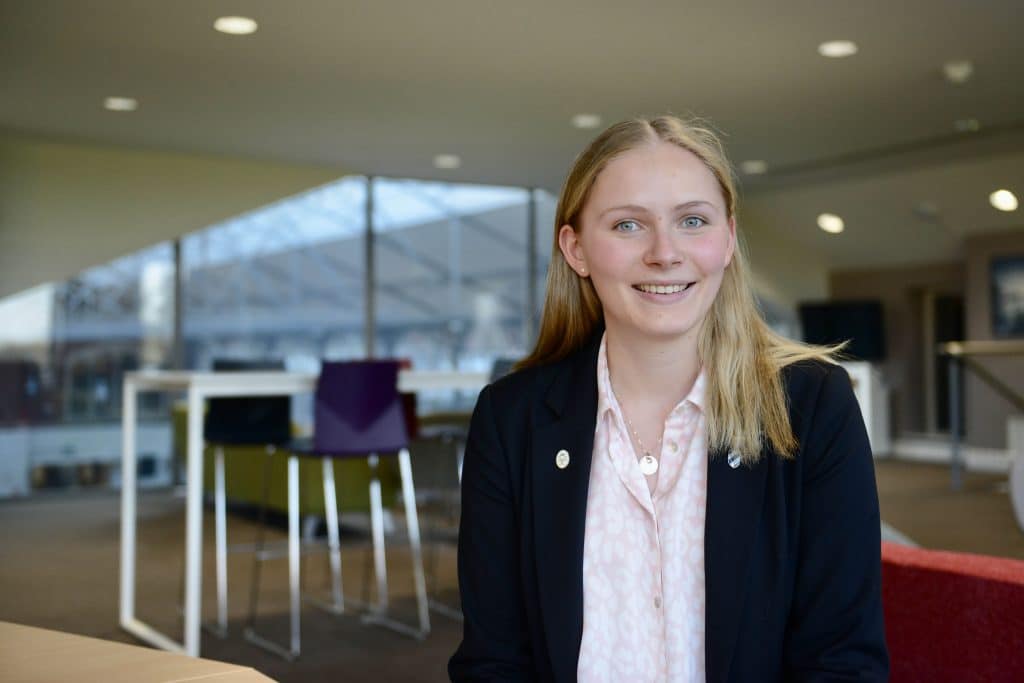 Rebecca is described by many of her teachers as an outstanding pupil and exemplary young woman. Since her arrival at Framlingham College in Year 9, Rebecca has showed a strong passion and aptitude for science and interest in medicine, and is now firmly on the way to making that a reality with a conditional offer to read Medicine at Downing College, Cambridge.
"I've known that I wanted to study medicine since GCSE. I had previously considered law but thought it wasn't the right route for me. I tried history and just didn't gel with it, so instead settled on maths, chemistry and biology for my A Level options.
"My dad's a doctor so I know quite a lot about the profession from him. I also did an orthopaedics work experience placement in Year 12 which is where I really cemented my passion for science and confirmed medicine was the route I wanted to go down." Rebecca commented.
Obtaining a place to study Medicine at Downing College is renowned for being highly competitive. Downing College's standard conditional offer to read Medicine is subject to the applicant obtaining A*A*A at A Level. Of the average 74 applicants Downing College receives per year, just 16 get offered a place.
"The application process is obviously quite intense for Oxbridge," Rebecca said.  "I had meetings every Wednesday with Mr Goldsmith where he prepared all of the Oxbridge candidates with information about what we needed to consider to progress our applications, and insights into the various tests that we had to undertake.
"Dr Noble has also been a great support, helping me a lot with my personal statement, and being a huge source of inspiration given she went to medical school and used to be a dentist. She really encouraged me and helped in my preparation to apply."
"I never really thought the idea of being a Cambridge University student would be a reality, and there have been times where I've felt discouraged and as though I shouldn't apply, but Mrs Collins and Dr Noble have always been a huge source of encouragement and support, so I went for it."
Success in medicine requires application and hard work, both while studying and when in practice. Rebecca's six year course consists of three years are pre-clinical studies and the next three years as clinical study with placements at Addenbrookes Hospital.
"I'm very excited, but equally nervous about having to get an A* in chemistry because it's quite a hard exam. But I am inspired given many of the Cambridge professors and lecturers are some of the most qualified and well respected in the country, even the world, so what better start could you ask for when considering your future career as a Doctor."
Rebecca is certainly a high achieving all-rounder and greatly respected at Framlingham College, known not only for her academic achievements but also for her music and sporting talents. As the Academic Prefect for the College and a prefect in her House, she has demonstrated inspirational levels of intelligence, focus and diligence combined with a humility and sensibility which will see her excel in the world of medicine.
Daisy F, due to study at Stanford University on a  hockey scholarship.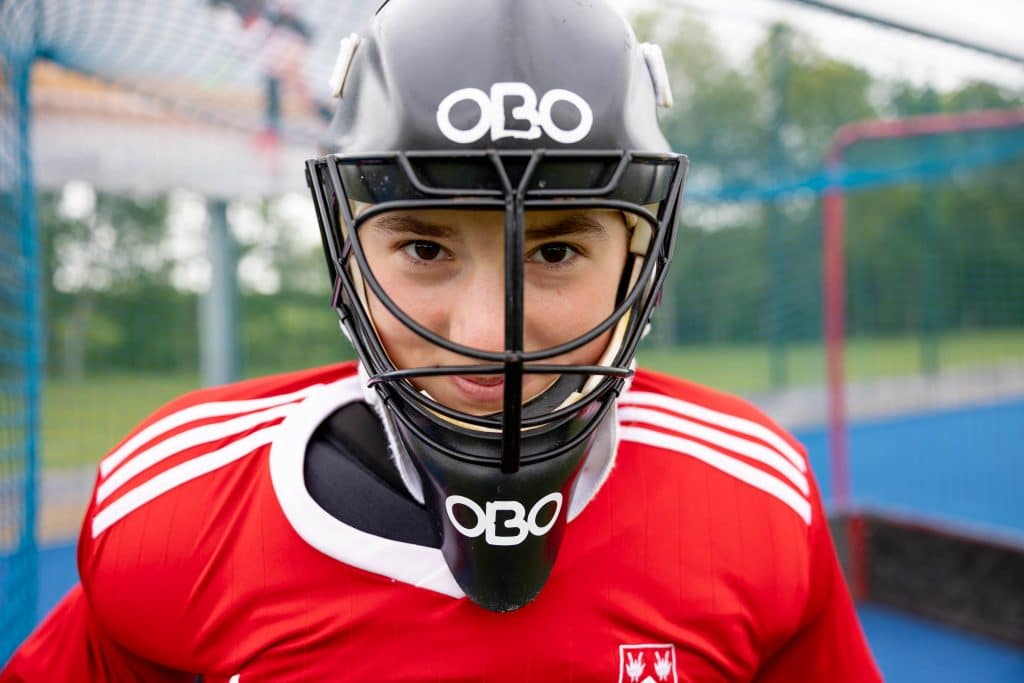 Daisy arrived at Framlingham College in Year 10, already an exceptional hockey player, but with a clear aptitude for many things including modern languages, poetry, singing, netball and cricket.
Fast forward to now, her final year at Framlingham College, and in four short years she has made an impressive impact on the School, on her teachers, on her peers and now on the selectors at Stanford, being offered a place to study at the acclaimed university on a full hockey scholarship.
As the Senior School's Head Girl, a hockey goalkeeper in the U23 GB Elite Development Programme and a talented linguist with high academic prospects, Daisy is a modest individual – perhaps even shy to proclaim her talents and success – but with an undeniable belief and focus that is already proving can take her far.
Talking about what awaits her in the USA this summer she said: "When I was younger I had a Stanford Savings Jar, so I've always had this dream to be a Stanford student, but at that age you can't truly appreciate what it really means if that dream were to become a reality."
"I don't think I will fully comprehend this opportunity and have it sink in as real until I land in America in August.  But I am obviously delighted, highly excited and waiting in anticipation to discover the future that lies ahead of me."
What awaits Daisy across her four years of study at Stanford is both exciting and perhaps slightly daunting, contending with a different schooling system and ways of operating, but is undoubtedly a prodigious opportunity given Stanford's world-wide reputation and the high-performance standards of varsity sports athletes in America.
She continued: "The application process to Stanford was slightly different to applying to UK universities, especially on a sports scholarship.  The first step was to contact the coaches who approve your application.  From there you submit of a range of written material, a personal essay, five short answer questions, three short essays, all designed to give an insight into who you are and what you want to achieve.  It was an insightful if not slightly overwhelming experience, and thankfully the wait to receive an offer wasn't too long.
"Experiencing the American education system will be different but so interesting.  I'm really looking forward to being surrounded by all the university life traditions we hear so much about in the UK, like fraternities and sororities, but also immersing myself in the undergraduate teaching programme.
"In American universities you get a chance to take a wide variety of classes in different subjects before deciding what to major in after the second year of study.  My passion is Spanish and linguistics and I anticipate that's where they will stay, but with this level of opportunity it is still an exciting unknown as to how things might change."
And what about the juggle between her studies and her hockey commitments?  It's certainly a balance Daisy has been coping with superbly well so far given all of her school responsibilities and the roles she plays at club and National hockey levels.
"I actually hope it might get a bit easier given everything is on campus and there isn't so much travelling and fitting things around each other." She said.
What is certain is that with her academic studies, daily hockey training and weekend matches (which will see Daisy travel across states and see a little more of America) Daisy will undoubtedly be living a busy but highly fulfilling life in the USA.
When asked how she was she feeling about starting her American adventure in August she said: "Not only am I overjoyed to get the chance to study, train and play at such an iconic university, I am equally as eager to immerse myself in the diverse culture of Stanford. Links and opportunities to be closer to Hispanic culture and communities, and practice my linguistic skills, is exciting but to also be surrounded by people from all over the world, their different perspectives and experiences, will be a wonderful environment to be part of."
Emily W, accepted a place at Trinity Laban Conservatoire to stud
y 
BMus Music Performance.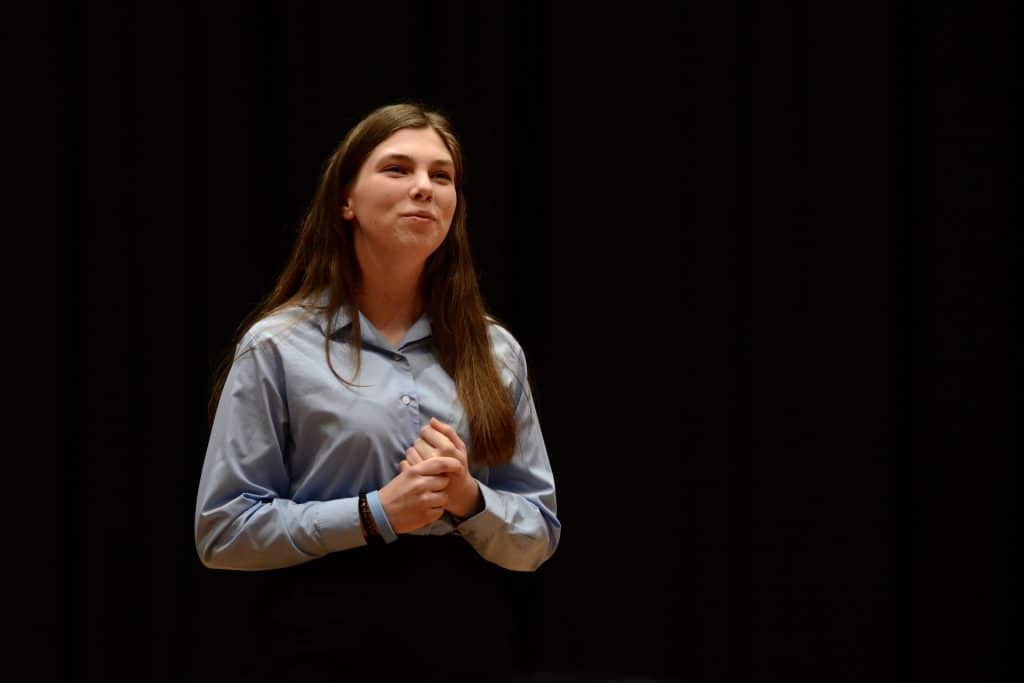 From a very young age, Emily W has focused on developing her vocal talents; a commitment that years later has led her to accepting a place at the acclaimed Trinity Laban Conservatoire of Music and Dance, deemed London's creative Conservatoire – the same Conservatoire attended by Framlingham College's Director of Music, Lucy Bloore.
Conservatoires provide performance-based higher education, specialising in the performing arts where courses focus on practical learning and performance, as opposed to university education that tends to be more academically led.
Emily's passion for music was born from a young age and has always played a leading role in her life. Coming from a family with American roots she recalls a childhood spent in a family friends basement recording studio, making recordings of "Somewhere Over the Rainbow when I was about five."
Asides from wanting to be a teacher in primary school, a career in music is something that Emily has always wanted to pursue: "My Year 1 teacher said I'd make a good teacher, but I think that was just her way of calling me bossy!"
From the age of eight Emily started formal singing lessons, but as a shy child Emily has had to work hard over the years to overcome performance-induced anxiety. Her self-confidence grew with the introduction of drama lessons during secondary school, which is where an interest in musical theatre was born.
Emily continued to study music with a strong desire to follow her passion in musical theatre, but since joining Framlingham College Sixth Form in 2019, she has worked with staff and vocal coaches and pragmatically decided to ground her studies in classical training to see where this would take her.
"Mrs Bloore and Megan, my vocal coach here at the College, have been very careful not to push me in any one direction because they realise that by doing that, it's not going to help me make a decision. The pressure imposed on me from other people has, in the past, confused me about what I want to do and the direction I need to go, so it's been refreshing and reassuring to have support from people who want to guide me, but ultimately allow me to make these decisions for myself.
"It helps that Megan my vocal coach loves musical theatre but is a classically trained opera singer. Having her experience to call upon has given me the balance and insight I needed to see that just because your study might be focused on one area, doesn't mean you have to lose your enthusiasm for another."
The ability to study a BTEC in music, alongside her A Level, has enabled Emily to gain valuable opportunities to perform which she isn't sure would have been possible at other establishments where Music BTECs are less common.
"I've never felt as confident or empowered to stretch myself as far as I have than at Framlingham. Previously at points in my life I've lacked confidence in my capability, but with the right support and encouragement I've now completed my Grade Five Theory and I've found that it's helped a lot with the practical side of music. The A Level and the BTEC in music together have been beneficial and complement each other really well."
"The extra-curricular activities, such as the choir, have been very helpful too. Mrs Bloore made me section leader and a lot of the sopranos look to me now for guidance which is nice."
Whilst Emily's future direction beyond Trinity Laban is yet to be decided, she knows she wants to maintain her passion for a performance-based career within music. With a wealth of talent, pragmatism and passion, Emily is quite rightly keeping her options open, and her study at Trinity Laban allows her to do just that.
Scroll through our gallery below of inspirational female pupils from across Framlingham College, all with their own individual aspirations, skills and passions.