On Wednesday 16th November, Year 3 pupils were treated to a hugely engaging and informative Egyptian Day from Historian and Archaeologist Mark Halls, who, as well as working in schools and museums in East Anglia for the last 11 years, has appeared in BBC's Horrible Histories and many historical documentaries.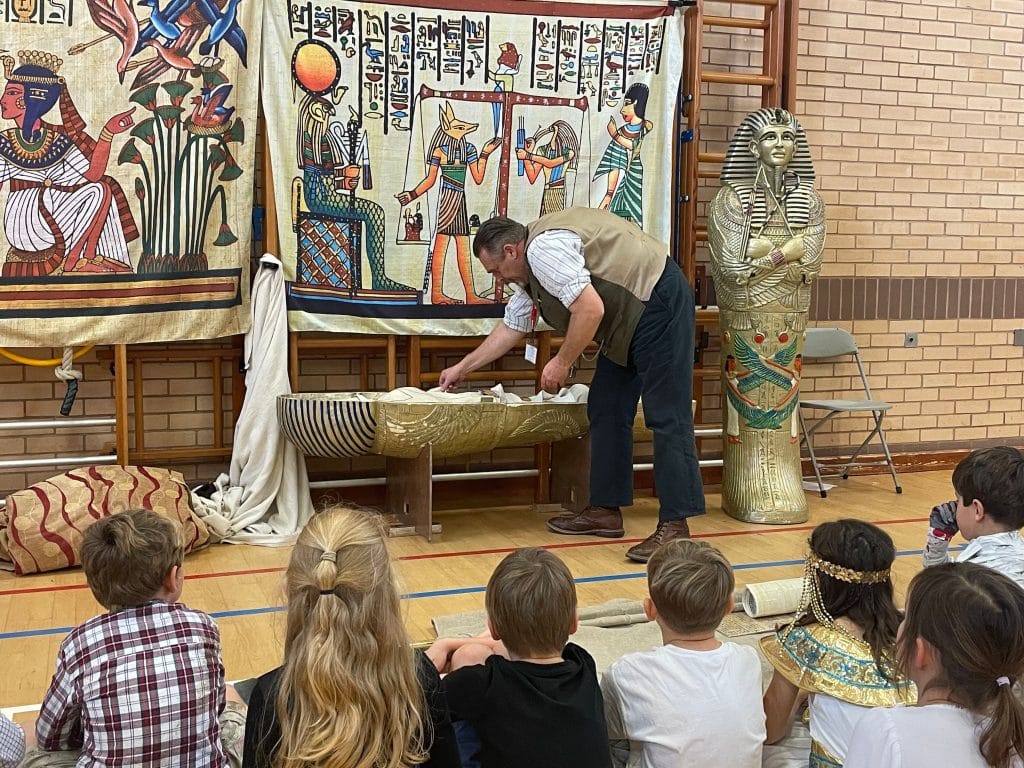 The interactive all-day workshop not only introduced the children to the fascinating world of the Ancient Egyptians – through the eyes of an Egyptologist, but also took them on a journey through the mysteries of mummification.
During the day the pupils took part in a number of activities including a fact-finding quiz covering a broad spectrum of Egyptian life and death, played traditional Egyptian board game Hounds and Jackals and looked at a range of Egyptian artefacts, many of which come from Mark's own personal collection.
The Year 3 pupils then enjoyed an afternoon of re-enactment, learning all about how the Egyptians dealt with the death of a Pharaoh, tomb building and decorating, mummification and burial, and the coronation of a new pharaoh.
The event finished with 'hunting on the Nile' and further use of Mark's artefacts to demonstrate to pupils the many skills, techniques and tools the Egyptians used on a daily basis.
Pupil Lizzie P greatly enjoyed the experience saying: "Egyptian Day was the best day ever we had so much fun".  Head of Prep School Humanities, Aideen Seymour-Jones organised the event.  She said: "The year 3 pupils' Humanities topic for the Autumn Term is Ancient Egypt, so this workshop was the ideal way for them to enhance their learning in an extremely fun and immersive way".