It's been a stellar month for Framlingham College Sports after Daisy, Year 12 was selected as one of just two goalkeepers in the England Under 18s squad. Her success comes just a few weeks after her friend and fellow pupil, Georgie, was chosen for the Team GB Elite Development Programme. Daisy chats to us about her ambitions in hockey, her development on the field and a hockey goalkeeper's unique perspective.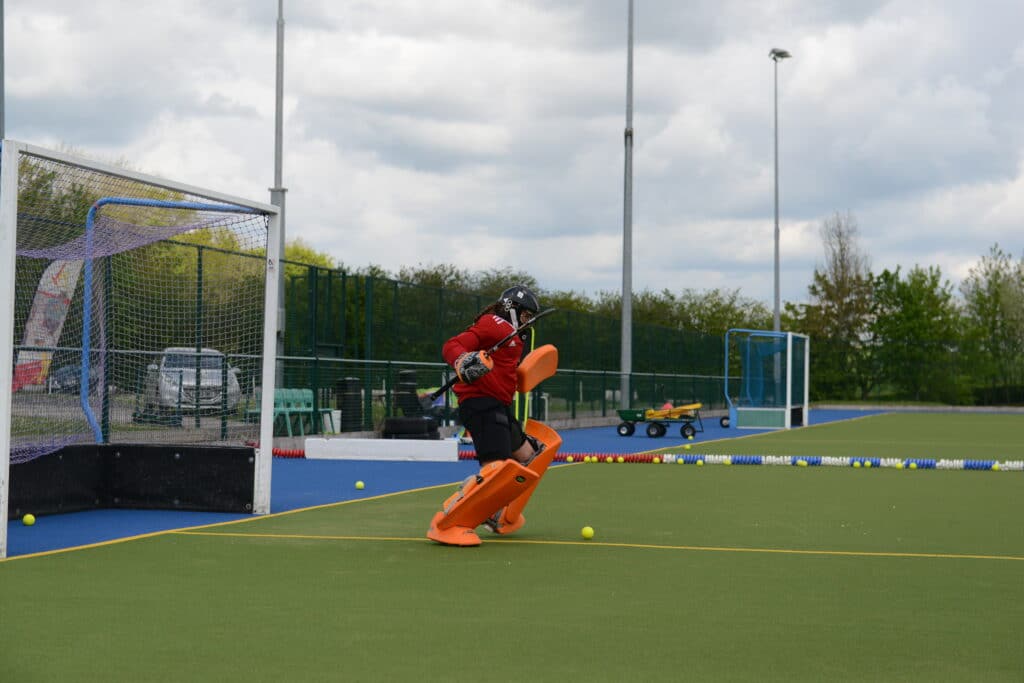 According to Head of Hockey, Jamie Kingstone, Daisy has 'the physical and mental capacity to go a long way in the sport.' Daisy's ambition has long been to go to the Olympic Games to represent her country. But, she says, when she was younger, she perhaps didn't fully appreciate how tough it was going to be to play hockey at an elite level. She says: "I really just want to go as far as I can and fulfil any potential I have. My goal now is to play well for the U18 and then see how far I can go after that."
Daisy is thankful to the staff at the Senior school for having helped her embark on this journey and earn a place in the U18 England squad. She adds: "The staff and facilities here have helped me immensely. Mr Kingstone offers me so much support and guidance and he is always there for one-to-one training sessions or just a chat to talk about my progress.
"The astro is such a hub here. You can always go down to do running at any time and you know you won't be the only one there. It's always open and the staff really love it when we take the initiative and want to train independently."
Daisy believes it's that culture of flexibility and independent training, with the support and guidance of the coaches, which has helped the school develop such a good track record of nurturing exceptional talent on the hockey pitch. She says: "It's really lovely to have Georgie here. She has a lot more going on than me as she's playing higher up, but it's great to have someone to share that international experience with, who knows what it's like. Obviously, it's great for the school team too."
Competition for the starting spot as England's hockey goalkeeper is fierce as, naturally, there is only one spot. But, Daisy says, there is a lot more to the position than just stopping the other team from scoring. She adds: "Communication is such a big part of being a goalkeeper because you can be uninvolved for large periods of the game, but it's my role to watch the game and let the team know what's going on.
"Developing my communication has been one of my main goals in hockey. When I was younger, I was a bit quiet but as I've got to know the team more, I've become louder and more confident in telling my defenders where I want them to be."
Mr Kingstone adds: "We have been working together on her communication skills. We have worked on helping her increase her tactical understanding of the game and be more commanding so she can have an influence on the game ahead of her. She had made huge strides on that front.
"Because of the schedule, she has a year to establish herself in the position and then hopefully win a European cup medal and then we'll see. She is very talented and getting better all the time."
Finally, Daisy says that the reason for her continued success is down to the belief bestowed upon her by the staff here at the College, including Senior Deputy Head, Ms Wessels, who is a former Olympic Hockey player. She says: "I would just like to say thank you. I genuinely would not have achieved what I have, if I hadn't have come to the College,  and had Mr Kingstone and Ms Wessels and all the enthusiastic coaches not planted the seed in my head and made me think that maybe I could do it.
"Ms Wessels' sense of humour on the hockey pitch is amazing. I really like her approach in that she tells you honestly what you need to improve as well as what you did well."