A bright sunny spring day on Monday 28 March 2022 was the backdrop to the FCPS Inter-House Colour Run in all its vibrant glory, with pupils from Reception through to Year 8 taking part.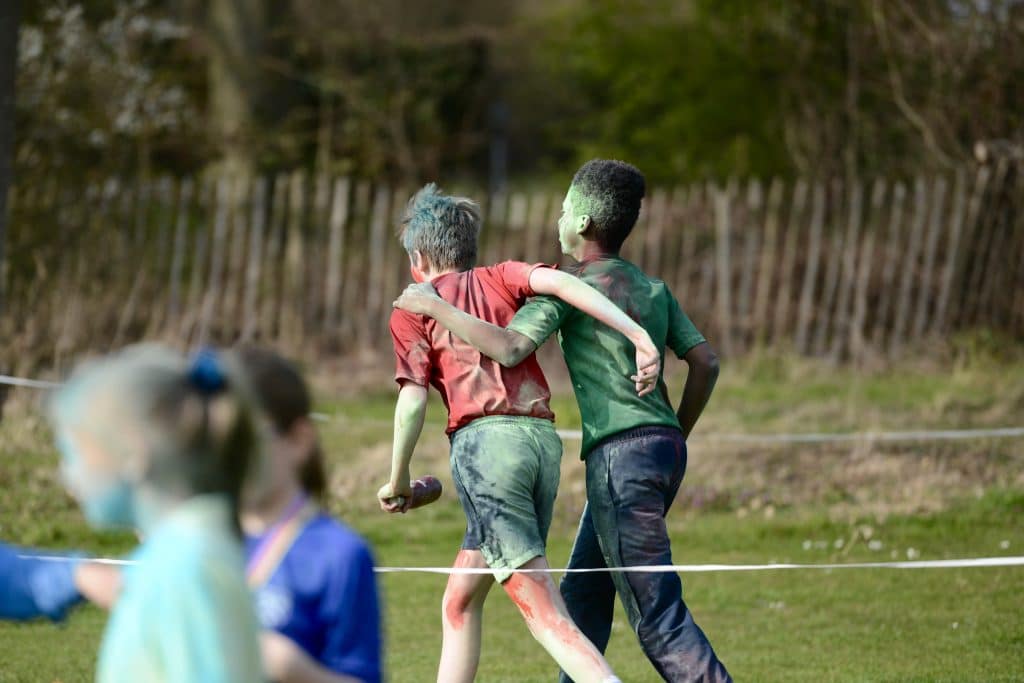 Host to fantastic displays of determination and team spirit, every pupil dug deep and ran not only for their House, but also in aid of raising money for the Ukrainian Red Cross Appeal.
Supported by the Friends of Framlingham College Prep School, affectionately known as the FOF, the Colour Run saw parent volunteers man colour stations of blue, yellow, green and red, with the job of ensuring every participant 'wore' a little bit of colour on their way round the course (some wearing rather more than others – see full gallery below).
The vibrant event brought smiles and laughter to all involved, and whilst fun was had the day also witnessed some fantastic athletic performances from many of our Houses' keen runners.  A full list of medal and cup winners are listed below.
A wonderfully energetic and vivid time was had by pupils, staff and parents, which set the last week of the spring term off to an excitement fuelled start.
At the time of writing the sponsorship tallies are still being calculated, but we thank all those who have made donations in support of such a worthy cause.
Inter-House Colour Run results
Fastest Reception Boy: Milo C
Fastest Year 1 Girl: Savannah H-W
Fastest Year 1 Boy: Kit F
Fastest Year 2 Girl: Evelyn H-D
Fastest Year 2 Boy: Cameron T
Fastest Year 3 Girl: Poppy L
Fastest Year 3 Boy: Barney R
Fastest Year 4 Girl: Tatiana G
Fastest Year 4 Boy: Stanley A
Fastest Year 3/4 Girl: Tatiana G
Fastest Year 3/4 Boy: Stanley A
Mixed Junior House Trophy – Burt: WOLSEY
Fastest Year 5 Girl: Florence M
Fastest Year 5 Boy: Ralph R
Fastest Year 6 Girl: Summer D-R
Fastest Year 6 Boy: Alex F
Fastest Year 5/6 Girl (Intermediate Trophy/Izzy Austin Cup): Summer D-R
Fastest Year 5/6 Boy (Intermediate Trophy/Higgins Cup): Ralph R
Boys Intermediate House Trophy – Ross Sindell Cup: WOLSEY
Girls Intermediate House Trophy – Anna-de-Martin Cup: GAINSBOROUGH
Fastest Year 7 Girl: Imogen P-H
Fastest Year 7 Boy: Felix N
Fastest Year 8 Girl: Maya C
Fastest Year 8 Boy: Max S
Fastest Year 7/8 Girl (Senior Trophy/Gibbon Cup): Maya C
Fastest Year 7/8 Boy (Senior Trophy/Cowley Cup): Felix N
Boys Senior House Trophy – Ellerby Cup: CONSTABLE
Girls Senior House Trophy – Newson Cup: WOLSEY
Mixed House Overall Trophy (Years 3-8):
WOLSEY
CONSTABLE
GAINSBOROUGH
BRITTEN