The last few weeks of the Autumn Term always bring with them a flurry of festive treats for pupils and staff alike.  From the Prep School's Santa's Shop and the Senior School's Christmas Fair, Christmas Jumper Day and the outstanding Christmas lunches from our talented catering team, to both Senior and Prep School Carol Services, this special festive time of year never goes uncelebrated.
The Nursery Nativity and Pre-Prep performance of a Midwife Crisis on Friday 9 December set Christmas spirits soaring.  All the children gave heart-warming and delightful performances, packed full of natural enthusiasm and genuine Christmas joy.  Audience members were captivated by how our younger pupils brought their characters and the Christmas story to life with engaging and expressive performances, not to mention amazing costumes.
The final week of term saw the return of the much-loved Christmas Jumper Day, where pupils and staff are encouraged to wear a festive jumper for the whole day instead of their traditional school attire.  The school was awash with festive colour and cheer, as everyone embraced the chance to wear their favourite yuletide pullover.
The week also hosted Christmas Lunch at both Prep and Senior School, where the catering team once again out did themselves, serving an outstanding, and absolutely delicious, 'full works' traditional Christmas lunch of exceptional quality.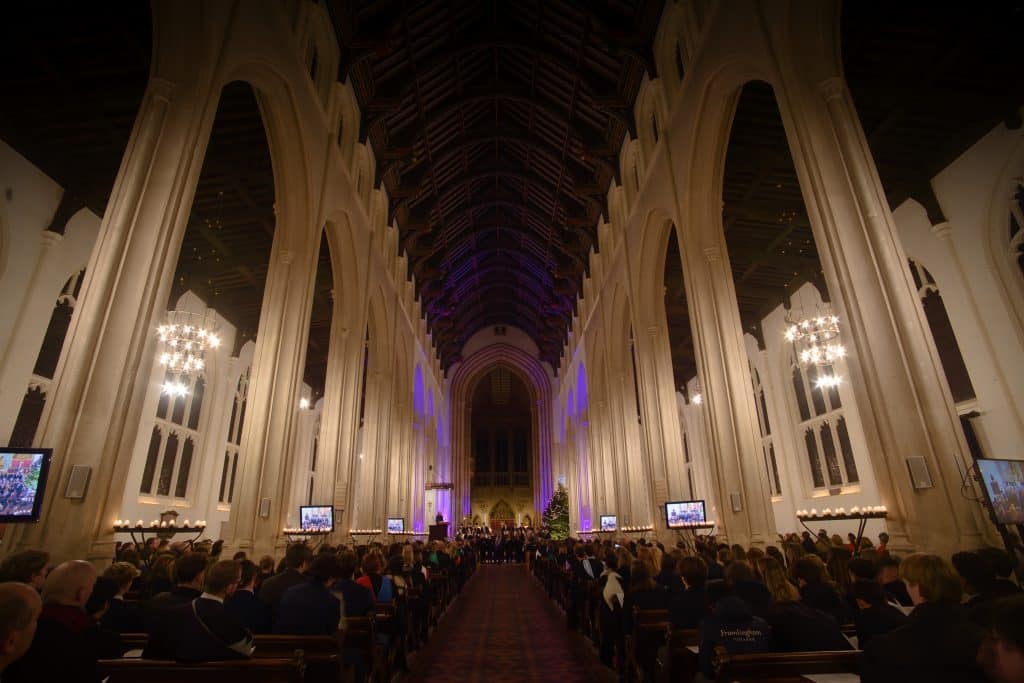 The final day of term brought the Senior School community together at the stunning St Edmundsbury Cathedral for our Christmas carol service. Having been postponed during the pandemic, this year's event was a wonderful moment of celebration and inspiration for the College community.
The choir and the soloists, including OF Laura Wright, treated the congregation to magnificent, joyful and moving performances that filled everyone's hearts with warmth and positivity.  Readers reminded everyone of the significance of the service's Nine Lessons with their powerful and expressive delivery, and the traditional carols allowed everyone to sing to the rooftops of the beautiful Cathedral and immerse themselves in the magic of the time of year.
The Prep School Carol Service held at the Senior School the following morning equally saw pupils, parents and staff enjoy the traditions of a College Christmas Service.  Head of the Prep School, Jonathan Egan said: "While our decorations go up on the 1st December, for me, Carol Services are the signal to officially start getting excited about Christmas. This year was an excellent reminder of the joy and energy the children bring to the school, accompanied by great singing from parents and teachers alike."