Pupils at the Prep School have been the first to benefit from the Framlingham College Art outreach programme, "The Sky's the Limit", designed to encourage and inspire primary school aged children to unleash their artistic talents.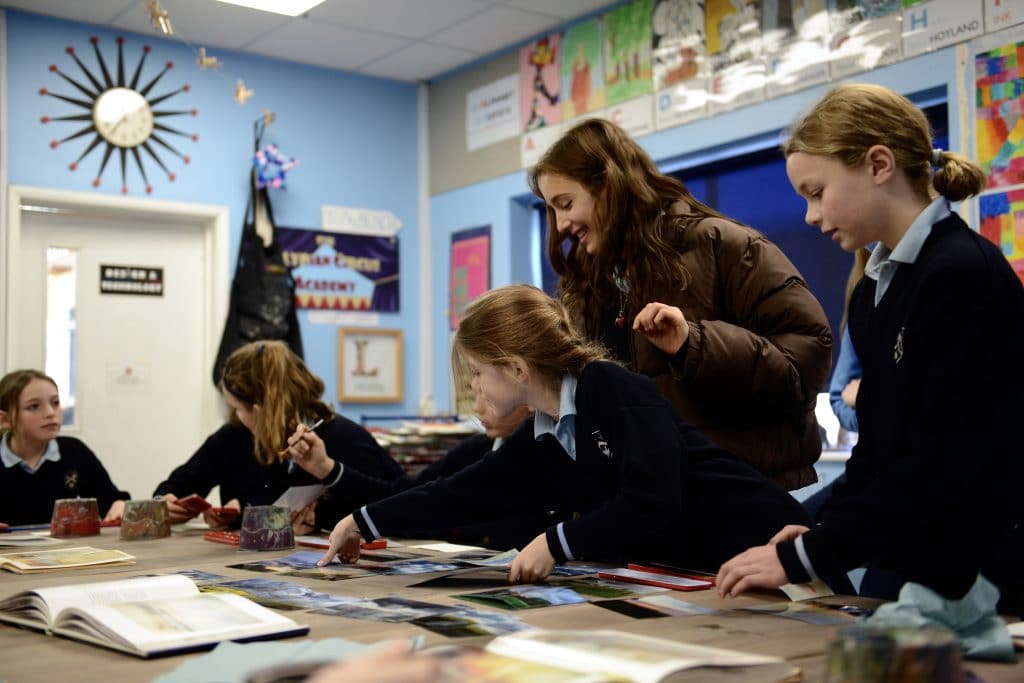 During the sessions Year 6 pupils work with Sixth Form Art Scholars to create their own landscape watercolours inspired by JMW Turner and John Constable. Using local photographs of countryside walks featuring spectacular Suffolk skies they created postcards on watercolour paper that they were able to have posted back to school.
With the support of their older peers the Prep School pupils were guided to consider the finer detail of their everyday surroundings and colourfully interpret the world around them.
There was also the opportunity for each Year 6 participant to contribute to the creation of a collaborative piece of work – a rarity for pupils studying creative visual arts.
Tilly G, Year 13, Lyla E and Maria S, Year 12 are all members of a wider group of Art Scholars who have attended the sessions.  Commenting on the benefits for the younger pupils Tilly said: "It's a wonderful chance to show them what they can achieve and how with a little help they can adapt their creative thinking to see artistic opportunities beyond their original perceptions – that the sky is not always just blue for example."
Maria added: "It's really encouraging to witness how the Year 6's grow in confidence as the sessions progress." Lyla agreed commenting: "It's also great to be able to help them with things like technique, how they are holding their brush for example, because with some simple changes they can instantly see a difference in how they are progressing and what they are creating."
Senior School Head of Art Sue Tansley said: "The art outreach programme is all about encouraging younger pupils to allow their creative streak to come to the forefront.
"We're lucky at the Prep School to have such a dedicated Art provision, but for primary schools who don't have a specialist subject teacher, I hope this programme is a great opportunity for pupils to really explore Art as a subject.
"Having our Sixth Form Scholars attend the sessions is not only a wonderful opportunity for them to develop key skills, but also acts as huge inspiration for the younger pupils, many of whom come away with aspirations to follow in our Scholars' footsteps."