Welcoming pupils from all over the world and embracing the wealth of diversity that this brings is central to Framlingham's purpose, helping to create confident young people with global horizons.
We recognise that celebrating every individual – for who they are, their experiences, their beliefs, and their hopes for the future – enriches every area of College life, and benefits both domestic and international students alike.
A highly encouraged curiosity of learning, intrinsic to Framlingham College, naturally extends to learning about people from different backgrounds and cultures. Experience shows that integrating with a diverse range of people and nationalities provides pupils with an extra depth of understanding of who, what and where they identify with, supporting each pupil on their individual journey of discovery.
ESL
Senior School
Years 9 – 11: ESL is offered instead of mainstream English where we feel the pupil might not cope with the English (subject) curriculum. They receive 6 lessons a week as part of their normal timetable.
Years 12 & 13: ESL is offered as an additional subject for those needing to get an English language qualification for university entry, or they simply want a certificate to take home at the end of their tenure with us. We provide 2 lessons a week and these are slotted into the pupils' timetables during their study periods.
Additional lessons: If a pupil wants one-to-one lessons, the department will endeavour to provide this. One-to-one lessons will be approximately £30 per lesson.
Prep School
Reception – Year 8: For overseas pupils joining the Prep School, they would follow the same curriculum as the rest of their peers.  Where necessary, additional ESL support can be provided to further boost their language skills.
All Prep School pupils are encouraged to read as much as possible; this greatly benefits our overseas pupils by enhancing their vocabulary and helping them gain a better understanding of the different English language structures.
Our purpose is to develop in each child the knowledge and skills they need to thrive as global citizens in their adult world."

Louise North 'Vision 2025' (Framlingham College Strategic Plan)
Why choose Framlingham College?
Framlingham College is a wonderful place to learn, where rural beauty meets global horizons. We are located in the beautiful Suffolk countryside, but are also a short train ride to both Cambridge and London, so students can enjoy the many cultural attractions that these vibrant cities offer.
We are a small school with a focus on supporting every child to create their own journey through the college. A British education, once synonymous with draughty dormitories and academic achievement alone, is now highly sought after. With specialist teachers and small class sizes, it places a firm emphasis on educating, nurturing, and developing individuals to be equipped to thrive as global citizens in their chosen adult world.
The beautiful natural setting of Framlingham College, as well as its progressive outlook, is what makes it such an exceptional place for overseas students to gain a first-class education."

Jamie MacKenzie, Head of ESL
At Framlingham College, by offering a breadth of academic and co-curricular opportunities we strive to develop each child's passion and talents, so they are equipped not only to gain entry to top universities, but also acquire the knowledge, independence, and confidence to make informed choices about the rest of their life. An independent boarding school education is a wonderful and convivial experience for any child, and at Framlingham, many go on to make life-long friends from their special time here.
Pastoral Care and Integration
At the heart of the Framlingham experience is the exceptional pastoral care we provide, which is never more important than for our students joining us from overseas. We recognise the challenges our international pupils face adapting to boarding school life with the added complexities of adapting to a different language and culture.
We believe it is important to build a support network around our international pupils. They are provided with an extra layer of designated pastoral support from our Overseas Pupils' Coordinator, Jamie MacKenzie, who as Head of English as a Second Language, is well-qualified in this role. Part of the Framlingham College experience for overseas boarders is being placed in a House and integrating with other pupils with a range of backgrounds, and Jamie supports this by holding regular meetings with individual pupils to ensure they feel at home.
There is also an International Pupil Rep in each House to provide peer support around wellbeing and a dedicated International Pupil Prefect who is responsible for ideas about integrating and embracing the cultures of our international students into daily life at Framlingham.
Life at Framlingham College has been a very enjoyable experience that will always have a special place in my heart. Aside from the charm of the surroundings (the town and Framlingham Castle), every pupil can feel the kindness of the fellow students and staff. Our Housemaster is a good friend, and all my housemates are very supportive; we never feel homesick."

George Ghetiu, Lower Sixth, international pupil from Moldova
Weekends at Framlingham are also a hive of well-planned activity, providing your child with the opportunity to further friendships, experience new things and most of all have fun. Activities range from those that are sports-based, to others that are more social, cultural, historic, or creative. All, however, will have the pupils' holistic education and wellbeing in mind.
Above all, overseas pupils are fully welcomed into our vibrant community to learn from their peers, our inspirational teachers and from the plethora of daily opportunities the school provides as well as benefitting from the unique experience of living within a new culture and being immersed in a foreign language.
Head of ESL, Jamie MacKenzie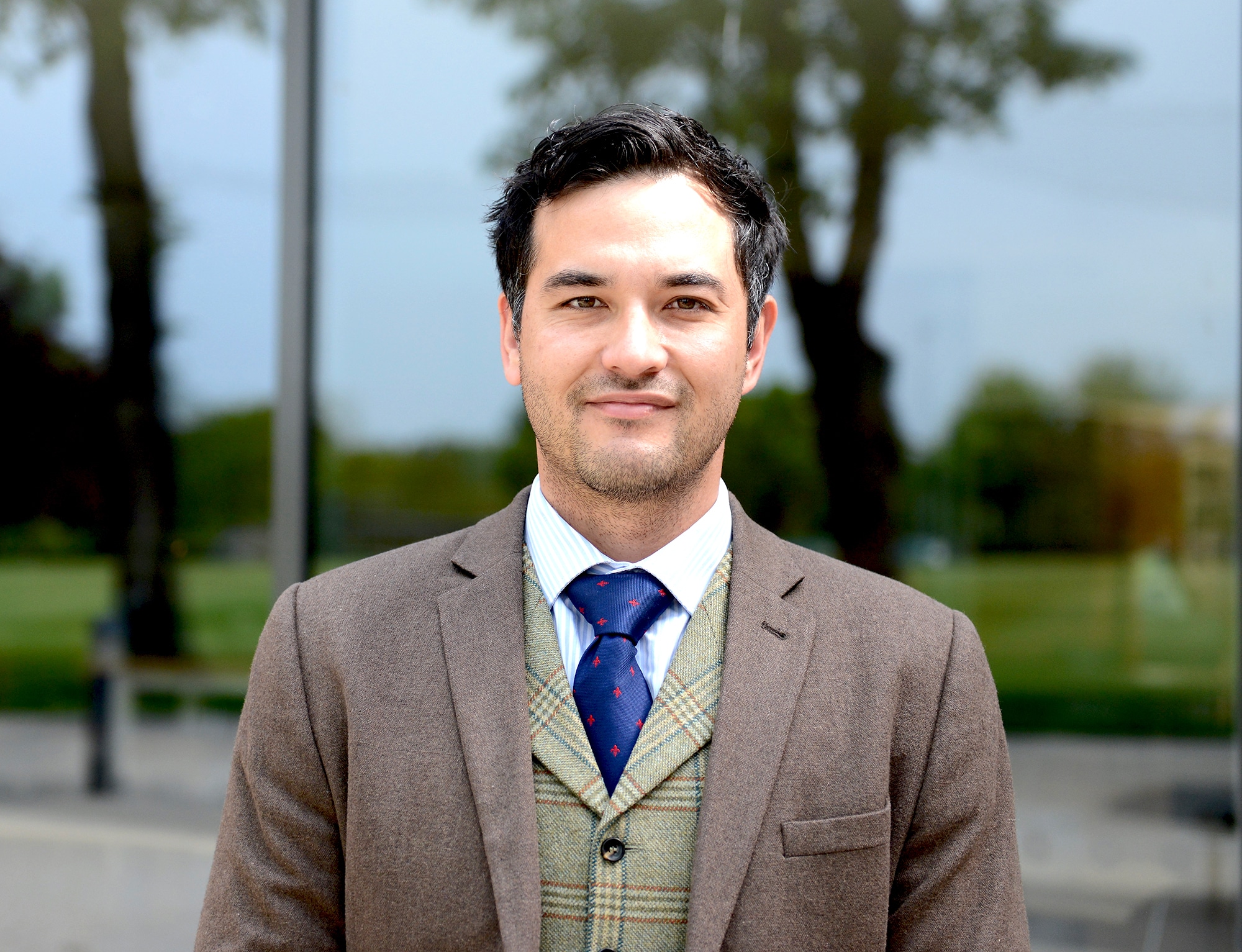 Having been born in Bahrain to a Scottish Father and Japanese mother, and after living all over the world, Jamie MacKenzie is a truly international teacher of English as a Second Language (ESL) here at Framlingham College.
Jamie went to boarding school himself, in Edinburgh, before going on to study history at Manchester University. He later travelled to Japan to teach English to Japanese pupils in Tokyo, before being offered a permanent post at an independent school in Scotland, where he took his PGCE as a history teacher.
One of Jamie's key responsibilities here at the College is offering pastoral care to international pupils in his role as Overseas Pupils' Coordinator. Part of the Framlingham College experience for overseas boarders is being placed in a house and integrating with other pupils with a range of backgrounds, and Jamie supports this by holding regular meetings with individual pupils to ensure they feel at home.
In his spare time, Jamie coaches hockey and cricket here at the school and likes to keep active in the gym. He currently lives with his young family in Framlingham so is always on hand to help overseas pupils develop their language skills and feel supported in the Framlingham College environment.
As is to be expected, Jamie loves to travel. He is adamant that his love of travel helps him in his work as first-hand knowledge of different cultures enables him to understand the motivations and expectations of different pupils. It also aids him in identifying areas where some pupils might find adjusting to life in Britain more challenging.
Jamie says his passion for education and seeing pupils develop their English, as well as their confidence, is what drives him. He believes the beautiful natural setting of Framlingham College, as well as it's progressive outlook, is what makes it such an exceptional place for overseas students to gain a first class education.
Pupil Testimonial, Lottie Rowland (Year 12)
Some of my best friends have been international students, who are such a key component at Framlingham College and help make our school what it is. There is the option to stay short-term, like a year or more and that allows us to see different cultures leave their legacy within our school. Even though they may not stay for long, we still make firm and everlasting friendships that survive the distance, with them always coming back to visit us or us them.
– Lottie Rowland, Year 12
Pupil Testimonial, Mane Grigoryan (Year 13)
Framlingham College was the place for me where I found new friends and new opportunities. It has a warm and very hosting community where every member of it is friendly and ready to help. I am very lucky to study at this school and have the best teachers who are always ready to assist in studies.
Framlingham has changed my life; it is busier and more challenging than usual and I can honestly say I like it. There is always an activity or event to take part in after lessons, but despite the busy school day, there is always time to spend with friends – go to the castle, walk in the town, play chess, do swimming, have small parties, and do movie nights. One of my favourite activities is CCF. I have had the chance to go on field weekends and at that time I thought that it was very hard, and not for me, but now when I look back, it was one of the most memorable moments I have had here. It was so much fun to spend time with friends, run, shoot, do a search in the forest and live like cadets.
I love this small town too, where everything is much more different than at home, but I like the type of architecture it has and as a future architect, I enjoy being in different environments and studying them. I love the castle and the paths to it, so I usually go there with my friends, walk around, get some berries, and enjoy the peace.
I think my day is different compared to other full boarders as I am from a foreign country. I have learnt new things every day: become familiar with British cuisine, have started drinking tea with milk, travelled to several places such as Norwich, London, Ipswich, Cambridge, etc. It was all new to me, and I have loved every moment and opportunity that Framlingham has given me. It was also new for me to board in houses and have House competitions. During the time at Moreau House, every member did their best to make me feel at home. I loved having movie nights, amazing parties and in general enjoyed every single day there with all that fun-loving people and our fabulous Housemistress.
I could not be more thankful for the support and encouragement I have been given, as I would not have been able to achieve what I have now without my teachers' and school's support.
– Mane Grigoryan – Upper Sixth, Armenian International Pupil, Joined in Lower Sixth